On Monday, January 21, frigid winter temperatures were no match for nearly 1,000 volunteers who turned out for City Year Philadelphia's largest service day of the year: MLK Day 2019. With temperatures in the teens and flash freezing forecasted across Philadelphia, the MLK Day of Service was — for the first time ever — pushed to a two-hour delay. Nevertheless, volunteers flocked to Kensington High School energized and ready to make better happen.
The mission: help transform the hallways and learning environments inside Kensington High. The aftermath: more than 170 inspirational murals, nine bookcases, three cubbies, and 10 new courtyard benches.
Visit our YouTube channel to see a video recap.
From community groups and corporate partners to neighbors, friends, and government officials, this year's MLK Day of Service proved to be an all-around team effort. City Year Philadelphia is thankful to all those who spent their day at Kensington High School working to make a difference in the lives of our students.

Despite frigid temperatures across the Philadelphia region, hundreds showed up at Kensington High School for a day of service.

"Our students deserve the best. They deserve to feel at home in their school. They deserve to know they have people behind them who believe in their potential. Today you are helping provide our students with all they deserve." City Year Philadelphia AmeriCorps member Jenny Roberts kicked off the day welcoming volunteers to the MLK Day of Service at Kensington High School where she currently serves.

Dr. José Lebrón, Principal of Kensington High, welcomed volunteers into his school and described City Year Philly's ongoing work with students throughout the school year.

City Year Philly's PT Crew had the crowd on their feet and fired up for the day of service ahead.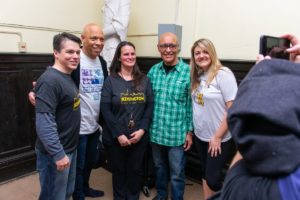 Congressman Brendan Boyle and School District of Philadelphia Superintendent Dr. William Hite gathered with Kensington High School's Assistant Principal Jamie Clark, Principal Lebrón, and Assistant Principal Lauren Murphy-Sands.

This college success wall was just one of 170 murals painted inside Kensington High. Other murals included Philly pride, a Kensington High school spirit wall, a celebration of immigration, and much more.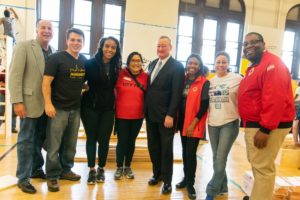 We were honored to have City Councilman Mark Squilla, Congressman Brendan Boyle, Mayor Jim Kenney, and State Representative MaryLouise Isaacson (not pictured) join us for our MLK Day of Service.
To see more photos, visit our MLK Day of Service Photo Gallery.