City Year Philly FY21 Partnership Roundup Q4
Compass Pro Bono Consultant Project Strengthens Board Development & Engagement
Compass recently completed a year-long pro-bono consulting project with our Site Advisory Board. The project focused on board development, engagement, and onboarding. Compass' mission is to inspire business professionals to engage with their local nonprofits to transform communities. They grant pro bono consulting services to nonprofits that benefit the Greater Philadelphia community. Each nonprofit client receives approximately $150,000 of strategic consulting services – free of charge. We are grateful for the support provided by the nine-member volunteer consulting team from Compass. Thank you Brett Atkins, Kimaya Padgaonkar, Ramya Baddam, Dorene Blythe, Casey Klein, Amber Macho, Isaiah Robinson, Brian Smith, and Larry Van Meter!
New Partnership with the Taco Bell Foundation
The Taco Bell Foundation recently awarded more than $750,000 to City Year sites across the country, including $25,000 to City Year Philadelphia, as part of their Local Grants program to support youth-serving nonprofit organizations. We are grateful to be a local partner to support the development, growth, and success of the students we serve.
Virtual Service Event with the Civic Engagement Team
The Civic Engagement Team hosted two virtual service events this spring. Participants decorated and packed school supply kits for students at Forrest Elementary and McClure Elementary. Special thanks to all of our partners who attended the May service event: Aramark, Ballard Spahr, Glenmede, PwC, JPMorgan Chase, and The Goddard School.
CSX Service Event with Blaine School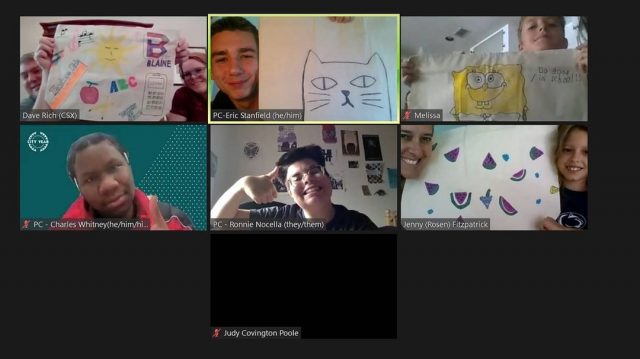 CSX and City Year Care Force hosted a virtual service event benefitting James G. Blaine School. Participants decorated teacher appreciation and safety totes to distribute to 50 faculty and staff. This event is part of the larger 100,000 Steps Towards Social Justice Initiative with CSX and City Year.
Duane Morris Professional Development Event
Team Sponsor Duane Morris hosted the Kensington High School team for an afternoon of virtual Professional Development content on April 20th. This event coincided with National Volunteer Week. Facilitators Riley Jones shared best practices for using LinkedIn to job search and network, Associate Board member Theresa Langschultz presented a myriad of financial literacy tips such as 'setting up a budget' and every member of the City Year team met with a Duane Morris staff member or partner from Lutheran Settlement House and Nido de Esperanza to provide tailored career development support.