Black History Month: Honoring Lincoln University as a pioneer in education
In honor of Black History Month, City Year Philadelphia is pleased to honor not only people who are African-American Pioneers in education, but institutions that have pioneered in the field as well. This week we are honoring an iconic institution right here in the Philadelphia area, Lincoln University. Lincoln is the first degree-granting Historically Black College or University (HBCU).
Originally called the Ashmun Institute, Lincoln University received its charter from the Commonwealth of Pennsylvania on April 29,1854 – making it the first degree-granting historically black college university in the United States. The history of HBCUs is vast but in short, they were created to serve as institutions of higher education with a primary mission of serving the African-American community. Before the Civil Rights Act of 1964, an overwhelming majority of white institutions did not accept African-American students because of segregation.
The university's roots date back to the early nineteenth century and to the ancestors of its founders John Miller Dickey, a Presbyterian minister, and his wife, Sarah Emlen Cresson. John Miller Dickey's grandfather was a merchant in Philadelphia who was an advocate for the education of African-Americans in the city, dating back to 1794. Sarah Emlen Cresson's family was very active in service and philanthropy, having been a part of the Society of Friends in Philadelphia. In 1851, Dickey took part in court actions leading to the freeing of an African-American girl who had been kidnapped from Chester County by slave raiders. Around this time period, he was also actively involved in trying to gain college admission for a young African-American man named James Amos. Seeing as though he was unsuccessful, Dickey took matters into his own hands and taught Amos himself.
In October of 1853, the Presbytery of New Castle approved Dicky's plan to establish an institution called Ashmun Institute, for the scientific, classical and theological education of colored male youth. Then on April 4, 1866, the institution was re-named Lincoln University, in honor of President Abraham Lincoln. Dickey's plan was to expand the college into a large university, and he wanted to enroll students of different ethnicities and backgrounds.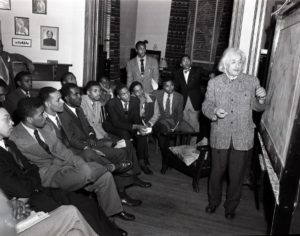 (Albert Einstein at Lincoln University)
Throughout Lincoln's early years, it became known as 'The Black Princeton' because of its Princeton-educated founder, its curriculum, and the school's connection to the Presbyterian Church. Likewise, there were similarities in school colors and mascots that the universities shared.
From the outset, Lincoln attracted a wide variety of students; not just from the immediate community, but from around the world. In 1953, during the university's 100th anniversary celebration, the institution amended its charter to grant women the opportunity to enroll and attend. Lincoln currently has 2,002 enrolled students, with 34% being male and 66% being female.
During the university's first 100 years, Lincoln graduated 20% of the African-American physicians and more than 10% of African-American attorneys in the United States. Some notable alumni include: Thurgood Marshall, the first African-American U.S Supreme Court Justice; Langston Hughes, world-renowned poet; Robert N.C Nix Sr, the first African-American elected to Congress from Pennsylvania; Phillip Banks III, the first African-American Chief of Department of the NYC Police department; and Nnamdi Azikiwe, the first President of Nigeria.
Lincoln University has been viewed as a staple in the African-American community for more than 160 years, primarily because it was the first degree-granting university to provide high-level education to African-Americans. Nelson Mandela is quoted as saying, "Education is the most powerful weapon which you can use to change the world." Access to education is a crucial part of this process. We recognize Lincoln University as a pioneer in education because the school sought to equip African-Americans to change the world by providing access to education.
To learn about another key figure in education, visit Part 1 of our Black History Month series honoring African-American pioneers in education.