Westgate Resorts Foundation Invests in Strong Families, Strong Workforce Mission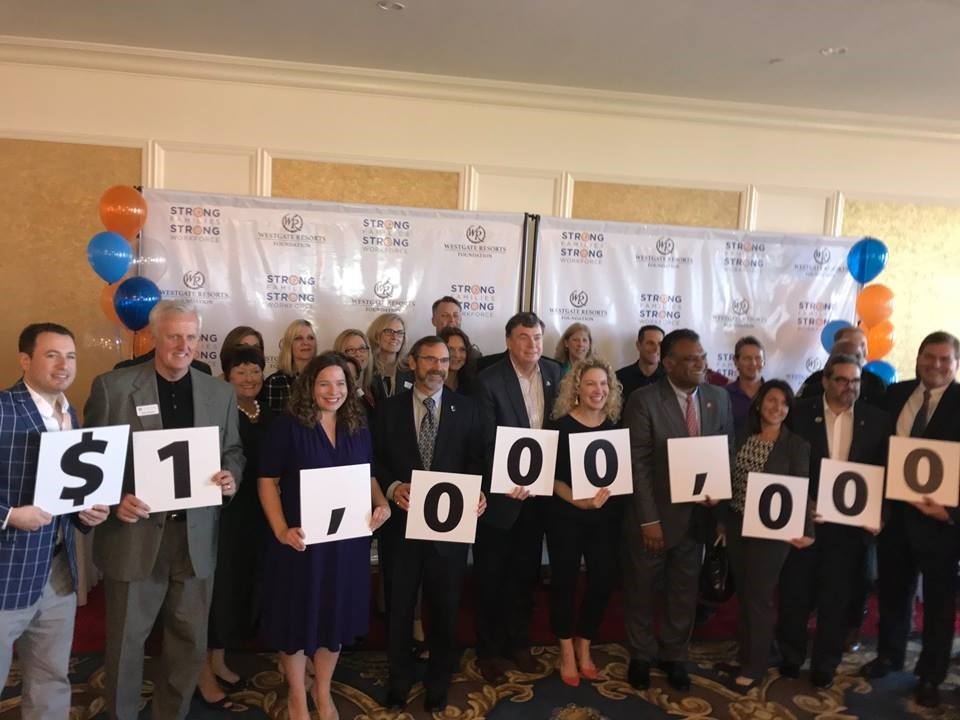 In November 2017, Westgate Resorts Foundation announced its investment of $1 million in grants for various nonprofits in Central Florida to continue its Strong Families, Strong Workforce mission. This year's Grantee Celebration Breakfast centered around "Strength in Numbers" and helping families overcome roadblocks so they can remain strong, keep working or quickly return to work. City Year Orlando is proud to be recognized as one of the nonprofits working to make a difference in the community as such. Westgate Resorts Foundation awarded City Year Orlando $20,000 in support of its "Whole School, Whole Child" program.
"Today was every bit as much about fostering relationships and collaboration as it was about celebrating a landmark investment of $1 million," said Mara Frazier, Senior Director of the Westgate Resorts Foundation and Community Affairs. "I'm excited to see the year unfold and how our grantee partners leverage resources and talent to create innovative solutions and bring permanent positive change to our community." 
City Year Orlando's "Whole School, Whole Child" model is designed to help schools organize their student interventions and whole school initiatives to better meet the high scale and intensity of students need. Studies validate the comprehensive services offered to partner schools by City Year have a significant and measurable impact on student performance. 
"The model that we use makes City Year unique because we're not just bringing a team of AmeriCorps members into the classroom, we're creating a presence on campus for the whole school. Day in and day out, our teams are pushing students to be better in their attendance, their behavior and their course performance, along with welcoming them onto the campus and creating initiatives that the school might otherwise not be able to pursue." Says Matt Yarvi, City Year Orlando's Impact Manager.  
About the Westgate Resorts Foundation 
The Westgate Resorts Foundation is committed to investing in Westgate's resort communities and team members by partnering with nonprofits equally committed to our mission of Strong Families | Strong Workforce: If families are equipped to break through barriers such as homelessness, domestic violence, gaps in education or returning to the workforce after military service, then they keep working or quickly return to work… paving their own path to self-sufficiency and lifelong success. A strong workforce means thriving communities where people want to live and vacation. The Foundation supports this mission through grant-making, advocacy and volunteerism in Westgate's resort communities nationwide. For more information about the Westgate Resorts Foundation, visit www.westgateresortsfoundation.org.