Service Coming Full Circle in the South Bronx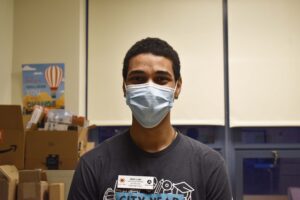 Meet Marc!
He's a former CYNY student turned CYNY AmeriCorps member. Marc is a Bronx native who went to PS 75 in East Harlem as a student and now serves three miles away at HighBridge Green Middle School in the South Bronx. We sat down with Marc to learn about what it was like being a CYNY student and what made him decide to join City Year New York.
Hi Marc! Can you tell us a little about yourself?
When I was in elementary school, I went to PS 75 where City Year New York was and still is a school partner, and that partnership led me to become an AmeriCorps member.
I was inspired to become a corps member because of a basketball game we had after school one day – it was the students vs. City Year.
A student was very upset because he didn't have the ball, and the City Year [AmeriCorps Member] who had the ball in his hand saw he was upset and gave it to him. All the frustration melted off that kid's face and he shot the ball in, and everybody cheered. Even though the City Year could have scored for his team, he still gave the ball to the kid, because at the end of the day what we do is for them.
Now that I'm a City Year, my students all talk about how they want to be part of City Year in the future. So it all becomes a ripple effect, and that's beautiful.
What kind of student were you?
I was a very shy student. I didn't like talking to people and I always wrote them off. But then an AmeriCorps member approached me and made sure that everything was okay. There were times when I would get bullied, and he would ask me to step outside and I would let out my anger there instead of in front of my classmates. When we did that, I felt relieved because I didn't wind up crying and feeling embarrassed in front of everyone.
What has service been like for you?
Two years ago, I went back to PS 75 as an AmeriCorps member, and I didn't know what I was signing up for. I understood that I'd be involved in education, but I didn't really know what that looked like. Then I realized how much I loved working with students and how much they loved working with me. It gave me even more motivation to come back as an AmeriCorps member this year.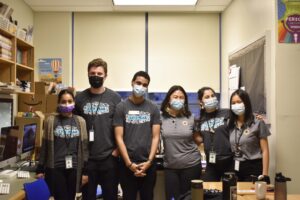 What's it like working with your team?
We can depend on each other. There are times when things can be a little rocky but at the end of the day, we always have our heads together, we always push through, we always let each other know that everyone on this team has each other's back and we'll get through anything together. We really value the quote: "If you want to go quickly, go alone; if you want to go far, go together."
Where do you see yourself in a few years?
I want to continue teaching, and it's because of the amount of support I get from my team and from my students. Whenever my students see me in the hall, they're always jumpy and hyper. They love giving me side hugs and love expressing how they feel – whether that's happy, sad, angry – and it's because of how comfortable they feel around me. I want to inspire young adults and I know that I can inspire them even more if I became a teacher.
What do you hope for your students?
I really hope that they have a bright future.