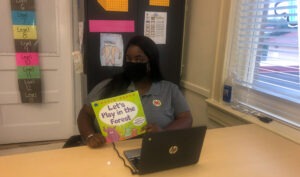 Each year, City Year New Orleans welcomes a new group of talented and dedicated AmeriCorps members. Over their year of service, these AmeriCorps members will learn so many things and grow in ways they never expected. As our 2021-2022 corps begins their service, one City Year New Orleans alum, Samantha, shares the 5 things she wishes she knew before her year of service.
#1 I wish I knew how often I would cry happy tears!
These students bring a joy to my heart that I didn't know I needed. Sweet moments with my students affect me more than I thought they would, and they make everything about this year of service worth it.
#2 I wish I understood how important it is to form relationships with your team.
What starts off as a group of 8-10 AmeriCorps members you meet during your first week of service ends up being something that will make or break your year. I feel so lucky to have great relationships with my teammates and be supported by each of them, but I wish I could give myself a preview of how meaningful those relationships would become.
#3 There is a bigger picture.
Instead of spending all your time questioning the small things City Year or your school has you do, trust that there is a bigger picture! Before you know it, you'll have enough pieces to put together why you're completing the small tasks. The big picture–which is really all about helping students–will start to make sense.
#4 It's important to build a strong relationship with your co-teachers.
AmeriCorps members and teacher work together to support students. When you're doing whole class support, it's important that you're working with your co-teacher's teaching style and overall game plan. Even when you pull your small groups for supplemental academic support, you'll want to make sure that your lessons support the teacher's vision for their class. So, be intentional about building a strong relationship with the teachers you work with!
#5 Be a sponge.
This one might sound like weird advice for an AmeriCorps member, but what I mean by be a sponge is that you should soak up everything you see any teacher, dean or principal doing with the students. Everyone on staff at our schools has unique techniques they use when working with students. Many of these are strategies refined over many years in the classroom. Whether it's a cute new call to attention or a tone of voice to use when talking to an upset student, there are so many great ideas you can learn if you're a sponge!
These are just 5 things I wish I knew about my year of service. I'm sure each AmeriCorps member in the 2021-2022 corps will walk away with a list of their own!
Follow us on Instagram for regular updates on the City Year New Orleans corps!