Serve for a Year, Stay for Another?
Doing one year of service with City Year is a transformational experience. But what happens when you stay for another? We talked to some of our current and former Senior Corps members about what makes serving for multiple years a rewarding and worthwhile decision!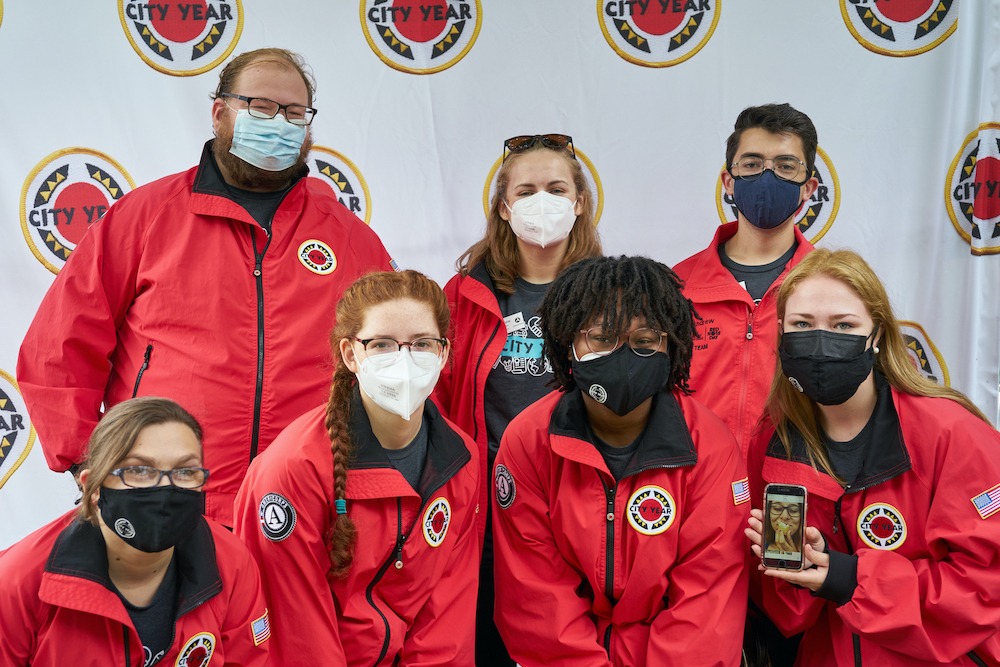 Doubling Down on Your Commitment
For many, the decision to serve again is rooted in a commitment to the students and community of Manchester. Abbey Watson, Service Leader at Parkside, shared "I fell in love with the Manchester community and decided to serve another year. I credit this to the amazing students and teachers. The relationships I built and the energy, passion, empathy, and laughter shared by the students made me realize that I did not want my time in Manchester to be over so quickly."
Kelsi Bucknam served her first two years at Northwest Elementary School, and agrees that her students motivated her to come back for a third year. "I wanted to be able to support (my students) in their first year of Middle School, and so I'm really glad I got to come back." Coming back as a Service Leader at the Middle School at Parkside this year, Kelsi followed her students in their transition to middle school, being a steady presence through the challenges of the pandemic.
Did you know: 30% of City Year NH Alumni have served for multiple years!
Many City Year AmeriCorps members move from out of state and two years of service deepens their connections and relationships in this community, opening opportunities to continue working in Manchester beyond City Year. Our alumni currently teach in the Manchester School District and work in various non-profits such as the YMCA, Girls Inc, GEAR UP, and the NH Food Bank. Damond Ford, City Year '10, '11, Associate Director at NH GEAR UP shares that during a second City Year experience, "you're building additional skills and more relationships. And for young professionals, the more people you know, the better for your career and for what you're passionate about." Serving multiple years also doesn't go unnoticed by employers: "Seeing that second year of AmeriCorps service really does put you at the top of a lot of folks' list because it shows commitment," adds Damond.
Build Upon Your Skills
For Maggi Reedel, who will be returning as a Service Leader next year, a second year is an opportunity to expand on what she's learned this year and deepen her impact. "I feel like my work with my students isn't done yet. I feel like I understand my role in the classroom now and I want to continue building upon that with another year in the classroom."
Service Leaders bring their experiences and learnings not just to the classroom, but to leading first year AmeriCorps members through their experience. "I have seen our Service Leaders grow in their leadership abilities and their confidence in leading," says Janelle Mulvaney, Impact Coach. "They learn conflict resolution skills and what it takes to be a leader. If an AmeriCorps member is struggling in a certain area, they're able to intervene and guide them when they see struggles come up."
Taking on more responsibilities in areas of interest, such as supporting ACM Learning & Development, supporting our marketing & communications efforts, or planning events also is a confidence and resume builder: "Something I've enjoyed doing more this year is putting my event planning skills to the test by working with my fellow Service Leaders to plan events for the corps." said Kailey Johnson, a Service Leader at Parkside, "I think I've grown the most as a person the past two years; I've become a lot more open and realized I do have the skills to be assertive.  I can work on a team and lead a team better than I could have before. City Year does a really good job of balancing the two, and that's not really something you get from schools or extracurriculars or other experiences I've had."
Lead In New Ways
Sometimes, AmeriCorps members have also returned to serve with City Year in non-school based roles. After her corps year, Amanda Forget '13 came back to serve as an AmeriCorps VISTA planning service days. "My first year, I served in a fifth grade classroom and loved my students, but knew that I didn't want to be a full-time teacher. During that year, I had the opportunity to plan after school/ service events where I got to think about logistics and operations and other things that I had never done before. My VISTA year was an opportunity to develop those skills and use them in different ways". Amanda now uses many of those skills in her role at the Rhode Island AmeriCorps Commission.
Similarly, Nikki Dudley chose to serve her second year on the Civic Engagement (CE) team at City Year Washington D.C. to further broaden her skillset. "I really was thinking intentionally about what my strengths are and what are my areas of growth. Transitioning to the CE team really allowed me to grow a whole different set of skills and put things on a resume that working in a classroom wouldn't necessarily align with. My work with CE and collaborating with school partners and corporate people forced me out of my comfort zone and helped me realize I am a confident leader and can speak up."
Grow In Community
Whether you're looking to grow as an educator, or explore new areas of leadership, City Year is a unique environment and community where people around you will champion your growth. "Having an opportunity to continue to explore my skills and build on them in a safe environment around staff members who are truly there to help build you up and continue to help you grow is where I needed to be," said Amanda
"I would really encourage people to come back because one, you will grow, and two, you'll be in an environment with people that are really invested in you and care about your personal and professional growth. That isn't necessarily unique to City Year alone, but it's also more the exception than the rule. So just being mindful that this is a place that you can grow and will be supported in that growth, is huge." said Nikki.
Prepare For What's Next
Increased confidence, access to a supportive City Year network, and a clarity in their own strengths, passions, and motivations, means our Senior Corps members leave having gained experiences that will prepare them for whatever's next. An additional Segal Education award from a second year of service with AmeriCorps also opens the door for graduate school or other educational opportunities.
For Maggi, who plans to go into educational advocacy work in the future, staying with City Year next year is the perfect opportunity to gain more experience. "Continuing to work in the city/ in education gives me more experience and seeing more of how educational systems work. That's something I want to pay more attention to –  different roles and people we talk to and interact with throughout our service."
Reflecting on what she'll take from her three years of service, Kelsi shares, "I feel like I'm more confident as a person and know what I'm passionate about and what I believe in. There's a lot of values from City Year that I will take with me, as well as people and connections that I know will have my back."
---
Interested in serving with City Year? Click here to learn more or start your City Year application: