Five cities where you can make a difference with City Year
Thinking about applying to serve with City Year, but not sure where? Well, lucky for you, City Year is serving in 29 U.S. cities you can choose from. Whether you're someone who knows exactly where you want to serve or you're open to service in a new community, it's a big decision!
But know that no matter where you serve, you'll be working alongside talented staff, students and teachers—in the most dynamic and vibrant communities.
Here is a roundup of stories from five of our sites in need of extraordinary young adults to serve and mentor students as student success coaches:
Buffalo
Buffalo is a unique city in Western New York with a rich history. Located on the shores of Lake Erie, Buffalo boasts the largest school district in the region, serving more than 30,000 students. City Year is a key partner to five Buffalo charter public schools, helping to create equitable and engaging learning opportunities for all students.
"I spend most of my day with my class of nine- and 10-year-olds, seeing them through all their classes," says City Year AmeriCorps alum Beth Elliot, City Year Buffalo '20. "I love the one-on-one time I spend with my students, as it reveals to me in new ways each day how special and curious each one of them is, no matter their reading level or spelling skills."
Learn more about what its like to serve with City Year Buffalo:
Miami
Considered a world-class destination, Miami is a vibrant and diverse city located in southern Florida. AmeriCorps members serving with City Year Miami are sure to fall in love with the year-round warm weather and all the cultural activities the city has to offer.
If you do end up serving with this fantastic site, you'll be placed in one of 10 high schools and eight middle schools throughout Miami-Dade County, which all reflect the dynamic cultures of the surrounding communities.
If you're looking for reasons to serve, check out this story on why we love Miami. Once you're done reading, we're sure you'll want to apply!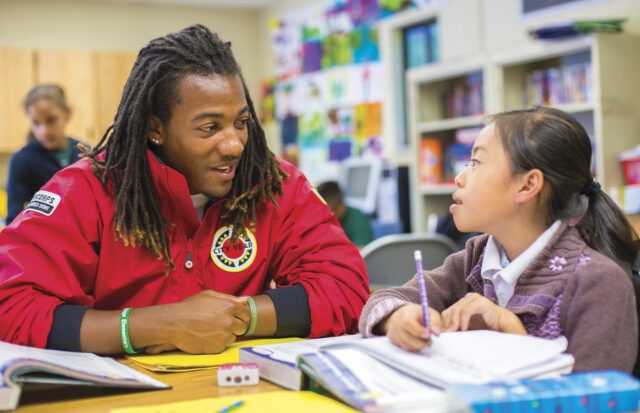 San José/Silicon Valley
San José, in northern California, is the 10th largest city in the country. While it's known for being home to some of the biggest tech companies in the world, it's also an incredibly diverse and multi-faceted city—with easily accessible beaches and national parks.
Corps members serving with City Year San José/Silicon Valley work to support their students, helping them to reach their personal and academic goals while also strengthening their own professional skills for their future careers.
"Today, I serve because it is how I give back to my community, my people and my younger self. I hope to create the same long-lasting impact on the wonderful students I serve as the AmeriCorps members who have served before had on me," says Ethan Viera, City Year San José/ Silicon Valley '22.
Learn more about the transformative power of service and mentorship:
Cleveland
Situated on the shores of one of the Great Lakes, Lake Erie, Cleveland is a mid-sized city with a small-town feel, boasting a great orchestral, museums and sports teams. It's a great, affordable place for corps members and young professionals to start and grow their careers.
City Year Cleveland has served its schools and surrounding communities for more than two decades. If you're considering service, Cleveland is a great place for young people to make their mark and generate a long-term positive impact in the community.
"City Year taught me to be comfortable with the uncomfortable! You never know what's going to come your way; there are so many variables and life circumstances that each student brings to the table," says Tony Ying, City Year Cleveland, '22.
"You have to think on your toes to help them the best you can. But also, you don't have to have all the answers—sometimes just being there, as a source of comfort and stability, can make a huge difference."
Learn more about the City Year Cleveland experience by reading this Q&A:
Seattle/King County
Seattle, Washington State's largest city, is perhaps most famously known for its breathtaking landscapes, fantastic coffee, and major technology companies. But anyone considering serving with City Year Seattle/King County should know that its schools and communities are vibrant and dynamic. City Year Seattle/King County partners with Seattle Public Schools District (SPS), where over 80 AmeriCorps members work with nearly 5,000 students across several schools.
"My year in classrooms supporting students as a City Year was one of the greatest joys of my life at that point," says Ashlye Allison, City Year Seattle/King County, '19. "I loved it with my whole heart. I loved my relationships with students, and I loved the school that I supported."
Read more about service with Seattle/King County.
Ready to apply to one of these fantastic sites?