New study highlights benefits of AmeriCorps
People who are familiar with national service programs such as AmeriCorps and Senior Corps have always understood the many ways these programs benefit communities, the economy and our larger society.
A new study by ICF Inc. provides even more evidence that national service programs yield a substantial return on investment. For every $1 of federal money invested in these programs, the return to society, program members and the government is more than $17.
The positive impact of national service
The national service study measured 30 national service programs and assigned a monetary value for their outcomes. Researchers then calculated the benefits to the people participating in national service programs who gain  skills and experience that help them to advance their education and careers, increase their earnings and enjoy healthier lives. Finally, they included the benefits accrued by the federal government such as tax revenue gains and savings because of the impact that AmeriCorps and Senior Corps have on the people and communities they serve.
Here are just a handful of ways AmeriCorps and Senior Corps are helping fellow Americans across the country:
Natural disaster relief after events like a hurricane or flood
Helping veterans and their families transition back to civilian life by accessing educational and economic supports
Tutoring and mentoring children, including helping them to read
Caring for senior citizens
Supporting student success in systemically under-resourced schools
Public health initiatives such as awareness campaigns, substance abuse education, prevention and recovery programs and contact tracing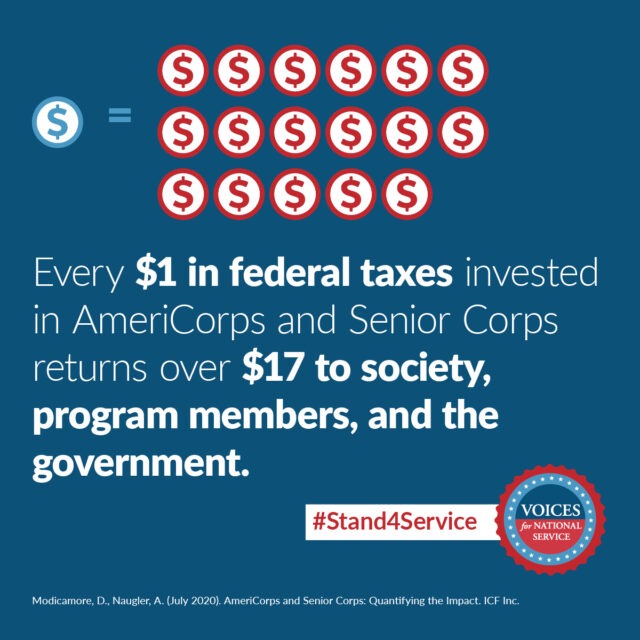 AmeriCorps and Senior Corps: Quantifying the Impact was commissioned by Voices for National Service, a coalition that believes citizens are central to solving community challenges.
ICF calculates the returns to society, those who serve and the actual service provided by AmeriCorps and Senior Corps to be around $17.5 billion while the cost of national service programs to the federal government is around $1 billion, resulting in a benefit-cost-ratio of more than 17:1.
The Corporation for National and Community Service is a federal agency established in 1993 to create opportunities for Americans to serve their communities through national service programs. The report shows how the service performed by 275,000 Americans across the country this year helps address unmet needs in communities.
City Year's impact on students and schools
This year, 3,000 City Year AmeriCorps members are serving more than 300 public schools attended predominately by children of color and children growing up in low-income households. Across 29 U.S. cities, AmeriCorps members are adapting their in-person supports to virtual service in light of COVID, supporting academic growth and social and emotional learning while also helping students to recover from learning loss and reconnect to their school community.
Schools that partner with City Year are up to three times more likely to improve proficiency rates in math and two times more likely to improve on state English assessments, and gain the equivalent of one month of additional math and ELA learning compared with similar schools that do not partner with City Year.
Nurturing leaders for life
More than 1 million people have participated in AmeriCorps programs since they first launched a quarter-century ago. The vast majority say their experience with national service has benefitted them personally and professionally.
Eight out of ten alumni of AmeriCorps programs across the country report that their service benefitted their career path.
Seven out of 10 say that AmeriCorps helped them achieve their education goals, in part thanks to the Segal AmeriCorps Education Award they received after their service.
They also say their service experience improved their ability to solve problems, interact with people from different backgrounds, and address community issues.
City Year alumni, a community of more than 32,000 and contributing across an array of professions, report similarly positive results.
96% agree City Year helped them to develop relationships and effectively work with people from different backgrounds than their own.
94% agree their City Year experience had a significantly positive impact on their lives.
82% said their service with City Year increased the ways in which they are civically engaged.
While it's difficult to calculate all the ways that national service programs have benefitted the organizations and communities they serve; the people who volunteer to serve their country; and the government, the July 2020 report by ICF confirms how valuable, cost-efficient AmeriCorps and Senior Corps are to our country.
Learn more about serving with City Year: