City Year, Red Nose Day and Comcast NBCUniversal Help More Students Reach Their Full Potential in School and Beyond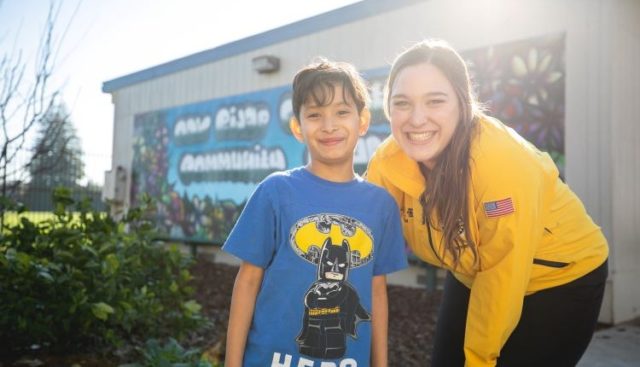 At a school in California, a student named Juan* takes a deep breath by the classroom door before returning to his seat. He's come a long way from the start of the year, when the bright-eyed and energetic third-grader wasn't always sure how to respond to frustrating events or how to tap into his inner reserves of patience and perseverance. At times, he coped with disappointment or difficulty with physical aggression.
Now Juan has learned how to regulate his emotions and handle transitions with grace—reducing the risk he'll miss out on lessons and improving the likelihood of succeeding in school. His new coping skills—and the self-confidence, self-expression and optimism that accompanied them—are a result of hard work by Juan, supported by his City Year AmeriCorps member Kalen Doyle.
City Year partners with under-resourced schools across the country and helps students get the most out of their time in the classroom—keeping them on track to graduate from high school, equipped with the skills to succeed in college, career and life. As part of a City Year team of AmeriCorps members sponsored by Red Nose Day and Comcast NBCUniversal, Kalen not only tutors Juan and his classmates in math and English, but also helps them develop social and emotional skills, so students can learn to manage moments of anger, disappointment or frustration—like when a disagreement with a peer nearly led Juan to leave class and his unfinished assignment behind.
Learn more about City Year's unique approach to education
"While there are still good days and bad days, overall we are seeing much more consistent behavior with self-regulation," Kalen says. "It's really made a huge improvement in not only his time in the classroom, but the quality of time that he's been having during the class."
Social and emotional learning
Research shows that the process of learning is social and emotional, and that learning happens through relationships—like the ones that City Year AmeriCorps teams build with their students. AmeriCorps members serve as tutors and mentors, helping students like Juan to grow academically and strengthen essential social-emotional skills like self-awareness to know when they might need to take a breath to refocus.
The work of the City Year team in Juan's school and in hundreds of other classrooms is made possible by support from partners like Red Nose Day and Comcast NBCUniversal. Red Nose Day has raised nearly $150 million to advance its goal to end child poverty. Each spring, the Red Nose Day campaign inspires Americans to put their "Noses On", coming together to have fun and make a difference in the lives of children in need across America and around the world. Supporters purchase Red Noses, engage their communities and tune into the night of special programming on NBC to raise awareness and life-changing funds. Red Nose Day takes place this year on Thursday, May 23.
This school year, Red Nose Day is partnering with Comcast NBCUniversal to sponsor 23 teams of City Year AmeriCorps members serving children in schools across the country. City Year and its partners know that a strong support network of caring adults in school helps children achieve their potential—and that systemic inequities that marginalize students of color and students growing up in low-income households can create obstacles for students to show up at school every day, ready to learn. City Year focuses its support on under-resourced schools like Juan's, where on average 90 percent of students are eligible for free or reduced-price lunch.
Mastering fractions
Nowadays, Juan and Kalen work together twice a week to practice multiplication problems, and Juan tracks his own behavior hour-by-hour with a worksheet that helps him visualize his goal to finish his lessons. When he feels upset, he and Kalen take a break by walking around the vegetable gardens in the schoolyard, playing soccer under the peach trees or sharing one of Juan's latest jokes.
And Juan has developed new habits, like raising his hand in class and reading the entire chapter of a book in one sitting, Kalen says. Juan's favorite prize for achieving his daily classwork goals? Free time that he spends playing a game that teaches skills to master fractions and multiplication.
*Student's name has been changed for privacy.
Ready to serve with City Year? Connect with us or start your application today: