Celebrating Women's History Month: how womanism can heal
As an organization committed to diversity, equity, inclusion and belonging, City Year strives to honor people of different identities and affirm the experiences of people from historically marginalized communities. In March, we celebrate Women's History Month with a reflection from Isha Johnson, a proud City Year alum who now works as an impact manager with City Year Detroit, supporting and helping AmeriCorps members to make an even deeper impact.
Building safe spaces for women of color
Six years ago, I declared on social media that I was a womanist. After doing extensive research, I concluded that for many Black women, the mainstream feminist movement hasn't been and still isn't enough.
Intersectionality—the idea that the overlap of various social identities including race, gender, sexuality, religion and class can lead to systemic oppression and discrimination—is key to larger conversations among millennial women of color as we decide whether to identify as womanists, feminists, black feminists, all or none. Womanism is similar to intersectional feminism in that they both acknowledge the ways that women navigate several identities simultaneously, while womanism focuses specifically on the experiences of Black women and women of color (WOC).
Understanding Womanism
A womanist, defined by Alice Walker, is "a black feminist or feminist of color … who appreciates and prefers women's culture, women's emotional flexibility (values tears as natural counterbalance of laughter), and women's strength…. [is] committed to survival and wholeness of entire people, male and female. Not a separatist, except periodically, for health."
I call myself a womanist because I believe that I am included in the larger feminist framework. While feminism caters to the belief of equality among the sexes, womanism is a bit more specific. It caters to the ideas of equity and intersectionality, emphasizing how black women and WOC are affected by their overlapping identities. Our rights, our morals, our culture, our mission—all are protected and prioritized under the womanist lens.
Womanism has a feeling of warmth and healing to it because it promotes healing of the entire African Diaspora and continent. Women's issues, dismantling patriarchy, having women and our unparalleled power at the center of the entire community—all of this is central in womanism. We must engage in this labor of love in the mindset of a community. I want to be the best woman I can be as I glow in this blackness: free, open, holy, profane, giving, strong, vulnerable; not just for me, but for my people as well.
Womanism is the reason why I am dedicated creating safe spaces for Black women in my city, Detroit. Once a month, I host a New Moon Circle for women to come together and align with the potent energy of the moon.
The space has been transformational for not only me, but for other women as well. At City Year we know all too well the beauty that is found within a circle. Nothing comes close to the sense of community, inclusivity and unconditional support it provides. I am proud to be a womanist because I am for us. Our voices, our movements and our healing.
I thank women like Alice Walker, Audre Lorde, Fanny Lou Hamer, Janet Mock and countless others who have used their words to further the womanist message. I especially thank the Black women at City Year who have always made me feel seen and heard—Nichole Yates, Michallene Thacker-Mann, Jessica Stowers, Brandis Taylor Williams and Adrianna Drake have all contributed to my professional and personal growth throughout my career at City Year. They have encouraged me to take up space and embrace my uniqueness. I stand on their shoulders, which has allowed me to see farther and clearer.
During this month as we are honoring, uplifting and fighting for ALL women, let's remember to acknowledge underrepresented women and groups that have different histories, are often at a tremendous disadvantage, and don't always have the space and privilege to tell their stories. It is time for us organize under the banner of shared womanhood and acknowledge that all these moving parts makes our collective work not weaker, but stronger.
Thank you for reading. Happy Women's History Month!
Learn more about City Year's work in schools and how to apply. Do you have what it takes to serve?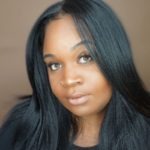 Isha Johnson is a City Year impact manager and a proud alum of City Year Detroit '12, '13. Isha is a Detroit-based healer, mystic & urban gardener. She is a lover of the moon and creating safe spaces for WOC to succeed.