Alumni profile: Kevin Dua (Boston, '10, '11)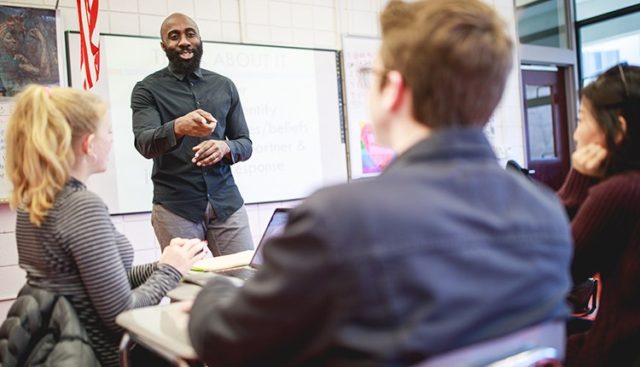 As a history teacher at Cambridge Rindge and Latin High School, City Year Boston alumnus Kevin Dua ('10,'11) spends his day delivering instruction, grading, conducting parent or administration meetings and planning lessons. But when he thinks about what brings him to success in the classroom, he points to authentic relationship building with students as one of the most critical components of helping his students succeed, in school and in life.
"My educational journey included learning environments that celebrated justice and embraced diversity, and I understand that's not universal," Kevin says. "It's important to provide that kind of environment for my students—one that fosters inclusion, empathy and a deep understanding of the differences that unify and motivate students, while encouraging them to explore and take pride in their identity."
Over his six-year teaching career, Kevin has distinguished himself as an outstanding educator, winning numerous awards. In 2017, he was named History Teacher of the Year in Massachusetts by the Gilder Lehrman Institute of American History, becoming the first black educator from the state to receive this honor.
To Kevin, who is not only an educator but also an advocate for social and racial justice, these awards are more than just a celebration of his work with students. He believes the recognition can help to elevate the teaching profession, particularly to young men of color. Nationally, just seven percent of U.S. public school teachers are black, and just two percent are black men.
Kevin credits his time with City Year as the catalyst for his passion for nurturing the next generation of leaders and becoming a classroom teacher. During his two years of service as a City Year AmeriCorps member at Boston Renaissance Charter School, he mentored and tutored fourth, fifth and sixth grade students. Kevin says his years of service challenged him to think creatively about how to inspire a love of learning in his students, and that the lessons he learned during his time with City Year are something he's carried with him throughout his teaching career.
"Providing one-on-one academic and social-emotional support to students in key moments helped me realize the power of representation and how that could positively impact school climate and culture," Kevin says. "I had adults in my life—teachers, family members, peers—who helped me figure out who I was as a young person, as a black man, and I wanted to pay it forward and help ensure that a quality education is something every student can fully embrace."
Kevin's humility when describing his accomplishments as an educator underscores his character and the vision he has carried throughout and beyond his service nearly 10 years ago: helping students to reach their full potential. He encourages everyone involved in City Year's work to make the same commitment, no matter their touchpoint to the organization.
"Creating a continuum of support for students is critical to ensuring they have the tools to better their lives in any life path that fulfills them, and perhaps, help others," Kevin says. "When I pledged to serve as a City Year AmeriCorps member, I pledged to be a community leader for life. My commitment to helping students succeed didn't end when I no longer put on the red jacket every day."
Kevin's words illustrate his belief that contributing to an open dialogue about what students need can make all the difference
"I want my students to realize that I'm learning too," Kevin says. "I promise them every year that they can count on me to challenge them, to guide them and to listen to them with openness and authenticity. That bond is what keeps them engaged and builds mutual respect between educator and student. To me, that's often just as important as them getting high marks on an assignment. I want them to see a bright future for themselves."
"When students have a network of adults who care about them, it inspires them to not only focus on their education, but to make good life choices," he adds. "Let's invest our energy each year in providing an opportunity for students to explore their potential as active, spirited citizens."
Kevin continues to be a fierce advocate for students and racial and social justice. He recently received several awards this year related to his work in this space including, the 2018 Dr. Martin Luther King Jr. Service Award from the Wakefield Human Rights Commission. Among his other creative ventures, he produced the "Black Album: Season 1″ in 2018, a visual collection of student-directed films centered on student activism on anti-racism and microaggression. He was also recently featured in a national NPR story centered on how students can advocate for better comprehensive reforms centered on tackling racism and cultural responsibility within their school district/community. Read more about Kevin's continuing investment in student success via his alumni profile featured in City Year's 2017-2018 Annual Report.
Want to learn more about serving with City Year? Connect with us: