Alumni Profile: Andrea Encarnacao Martin
City Year to a career in public education and national service
Two constants have defined the adult life of City Year alumna Andrea Encarnacao Martin since her service as an AmeriCorps member with City Year San José/Silicon Valley: a career in public education and a steadfast dedication to national service.
"My City Year experience helped confirm for me how powerful active listening can be in building an authentic bond with students," says Andrea, who today works as a guidance counselor for Boston Public Schools. "In my professional role now, every day is different but usually requires me asking my students to be vulnerable and share their hopes, dreams and even fears as we talk about their goals. When trust is there and they're able to open up, that's when I know my students are progressing and the real work happens. City Year taught me that when positive relationships are at the core, anything is possible."
Education and community support
A native of Massachusetts, Andrea served with City Year more than 3,000 miles away from home. As she adjusted to her new city and work environment, Andrea quickly realized that just as her students relied on her consistent and caring presence day in and day out, she, too, needed her own community of fellow AmeriCorps members to support and help her.
"Serving in San José revealed how instrumental my 'village' of family, friends and other caring adults were to building confidence and encouraging me along my educational journey and my journey as an AmeriCorps member, and how that kind of support is equally critical to student success," Andrea says. "Students I worked with would often tell me, 'I'm not good enough' or 'I can't do this.' Through my experience as an AmeriCorps member, I learned that caring adults can connect with them in an authentic way to help change that mindset."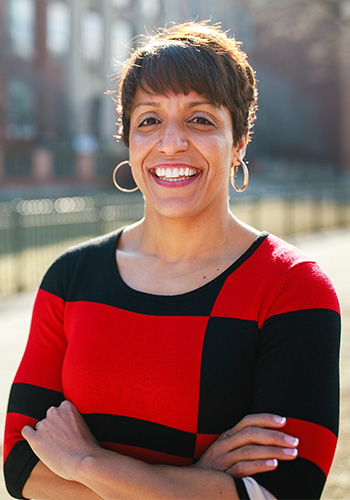 Andrea is one of thousands of City Year alumni who have gone into education and youth development professions to support student success.
After earning a degree in psychology from the University of New Hampshire, Andrea's "City Year" inspired her to pursue a master's degree in school counseling at Northeastern University. Recently, she received an advanced degree in administration from the University of Massachusetts Boston. Today, she's celebrating nearly 13 years as a guidance counselor at Boston Latin School, the nation's oldest public high school, where she advises more than 250 students each year. With two young children of her own who attend Boston Public Schools, Andrea is committed to ensuring that all students receive opportunities and resources to thrive.
"Helping students not only reach their full potential but to also believe in their full potential-for me, that's the definition of student success," Andrea says. "That happens when we, as teachers, counselors and AmeriCorps members in schools, work alongside students to help identify their interests, passions, a pathway to the future they're envisioning. I want all of my students to feel like there's nothing that can stop them and get in their way of their goals."
Andrea continues to build deep connections within the City Year and national service communities. She serves on City Year's national board of trustees, often volunteers for City Year Boston events, and regularly attends local and national alumni service events across the country. She welcomes any opportunity to give back in the same way that sparked her initial interest in community investment and national service.
"Andrea Martin has shown tremendous commitment to City Year through her board service and deep connection to the alumni community," says City Year CEO and Co-Founder Michael Brown. "Her dedication to her students and to education more broadly serves as a powerful reminder of the significant investment that our alumni are making in communities nationwide to ensure students reach their full potential."
"I'm who I am today because City Year showed me that one person can be a part of a larger effort to make a measurable difference in the lives of young people."
"I believe wholeheartedly that by supporting student success, whether personally or professionally, we can collectively make the world a better place," says Andrea. "I'm who I am today because City Year showed me that one person can be a part of a larger effort to make a measurable difference in the lives of young people."
From Boston to San José and back, Andrea's inspiring journey and investment in student success is a testament to how transformative the City Year experience can be for AmeriCorps members, and how service can create positive ripples for many others.
"I'm forever grateful for City Year's presence in my life," Andrea says. "I'm proud to be a part of City Year's legacy as an alumna and am honored to represent an organization working tirelessly to elevate service, students, families, cultures and communities-ultimately unifying us all."
Learn more about service with City Year:
Originally published in the 2018 Annual Report.