Welcome the new District Learning Network of school leaders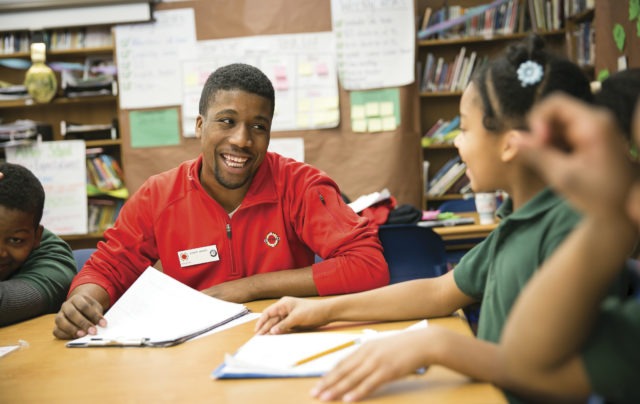 Introducing City Year's second District Learning Network cohort
City Year is fortunate to partner with education leaders across the country who together serve nearly a quarter of a million students across the 350 public schools where our AmeriCorps members serve every day. We have learned from their deep understanding of both the local contexts where they live and work as well as the evolving national conversation about how to achieve greater educational equity for all students.
In 2018, City Year launched our inaugural District Learning Network of eight partner school district leaders in response to feedback from many of these leaders, who said they would benefit from the creation of a learning community of their peers. The District Learning Network gathered several times throughout the year, both in-person and virtually, discussing shared challenges and surfacing strategies, especially to combat chronic absenteeism. They collaborated on an essay: How a focus on equity can help address chronic absenteeism in schools.
During a kick-off gathering this month in Orlando, a new cohort grappled with issues of equity and belonging in schools. They explored what may hold back strong communication between adults and students in our school systems and began to share ideas to improve communication in their communities.
Read more about City Year's approach to maintaining equity and inclusion in school and in the greater community
The group will continue to connect throughout the school year to discuss and test research-based best practices while building community as a national network of leaders.
This fall, City Year is excited to introduce our second cohort of educational leaders who are forming a new learning community. They include:
Andrea Castaneda, Chief Innovation Officer, Tulsa Public Schools (OK)
Before moving to Tulsa in 2017, Andrea served the Rhode Island Department of Education, first as Chief of Accelerating School Performance and later Chief of Fiscal Integrity and Statewide Efficiencies. Read more about Andrea Castaneda.
Dr. Dana Kriznar, Deputy Superintendent, Duval County Public Schools (FL)
Dana Kriznar is a veteran in Duval County Public Schools, having served for 33 years as a teacher and principal, followed by her role as Executive Director of Multiple Pathways and Support Services. She is now Deputy Superintendent. Read more about Dana Kriznar.
Dr. Robert Maddox, Superintendent, Lexington School District 4 (SC)
Dr. Maddox has over thirty years' experience as an educator in South Carolina, as a principal and Associate Superintendent. He now serves as Superintendent for Lexington School District 4. Read more about Robert Maddox.
Dr. David Moore, Assistant Superintendent, Miami-Dade County Public Schools (FL)
Dr. Moore leads the Division of Academic Support (DAS) for Miami-Dade County Public Schools, encompassing the Education Transformation Office (ETO), Student Services, and the Office of School Improvement (OSI). Earlier, Dr. Moore served as an Administrative Director of the ETO, principal, assistant principal, counselor and teacher. Read more about David Moore.
Dr. Marla Sheppard, Deputy Superintendent, Kansas City Public Schools (MO)
Marla Sheppard began her career in Houston Independent School District as a math and science teacher before moving into a principal role, followed by Assistant Superintendent in Fort Bend ISD. Marla Sheppard joined KCPS in 2017 as the Deputy Superintendent.
Dr. James Lawson, Minority Achievement Officer, Orange County Public Schools (FL)
James Lawson began his career as an English teacher. Since moving to Orlando in 1986, he has served the students of Orange County Public Schools as a teacher, principal and district leader. Read more about James Lawson.
Building Equity and Belonging in Schools
These leaders and City Year are committed to ensuring that all students—particularly children of color growing up in neighborhoods of concentrated poverty and attending systemically under-resourced schools—receive the tools and supports they need to graduate from high school, prepared for college, career and life success.
Learn more about service with City Year: