Pi Day: Infinite ways to celebrate the magic of circles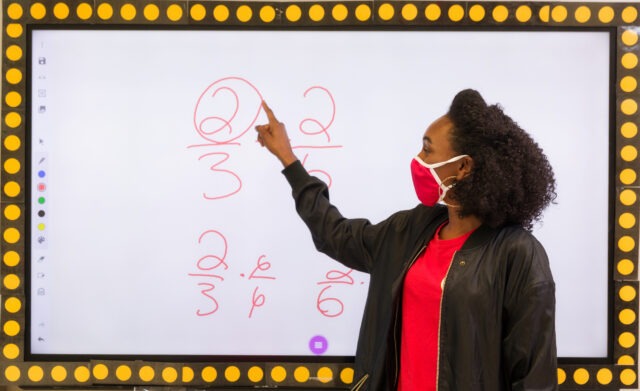 City Year celebrates Pi day
Throughout history, the humble circle has ignited debate and intrigued many brilliant minds. Why is that? Just take a closer look at a circle near you, like the lid of your coffee cup or water bottle. Now, split that circle into two even halves by running a line through its center, and compare that length to how far your finger travels when it traces the perimeter of the lid once.
Wherever you buy your brew or your water, the distance around the circular lid will be a little over three times the distance across it! Try it again, with any circle—the wheel of a car, a ring on your finger or a tree trunk—and the answer will be the same. The distance around, or the circumference of a circle, is ALWAYS a bit more than three times the distance across the middle—in fact, about 3.14 times!
This is one of the mysteries of circles that you can help your students discover on Pi Day, an entire day celebrating the number 3.14, which of course take place on 3/14 or March 14. So take some time to talk with students about the number known as pi, or py, represented by the Greek letter π. (The Greek word for circumference is perímetros, and p in the Greek alphabet is the symbol π.)
Many people have learned that pi comes in handy, from the ancient Chinese to engineers at NASA. NASA used pi to figure out how to parachute equipment onto the planet Mars, including a successful touchdown last year of a rover that's still exploring the planet. In fact, pi is about as useful as it is long—that's infinitely long. Want to test this out? You can see for yourself by exactly measuring the circumference of a circle and dividing by the distance across the middle of a circle, known as the diameter. You can divide those numbers all day, and you won't finish! That's why you'll often see pi rounded to two decimal places—3.14.
To help students try some fun activities related to pi, check out the resources below. Feel free to adapt them to your learning conditions—for example, distance learners can look for circles to measure at home and share their findings with the group online. Whether or not your students end up pursuing fields like science, technology, engineering or math, they'll discover that pi is a very useful number to know!
Pi day math activities for students
Connect with us today to learn more about City Year AmeriCorps and our unique approach to student success:
This story is an updated version of one published last March.