Literacy and lifelong learning at City Year: 21 Books to gift this holiday season
Literacy month at City Year
In the spirit of sharing knowledge and promoting lifelong learning practices, this National Family Literacy month we invited our community of staff, AmeriCorps members and alumni to offer personal insights on book recommendations for readers across a wide range of age groups that make great gift-giving ideas this holiday season.
Whether you are new to our community or a committed long-time supporter, we hope that the stories and resources featured here will inspire you to read and celebrate learning with youth in your community well into the new year.
Books for the little ones in your life ages 0-12: City Year staff recommendations
"My mother is a retired third-grade teacher who used to start her math lessons by reading a math-themed picture book to her class," says Sarah Cassell, City Year's senior digital marketing manager. Sarah is an avid reader and writer and mother of an 18-month-old daughter.
"Reading doesn't just happen in English class," Sarah says. "I try to make sure that my child sees me reading books and magazines in an effort to show that reading isn't homework–it's a regular part of life. There's always something to read, labels on goods while we're shopping, menus at restaurants. Whenever possible, I call attention to it. "Let's read what this box says!"
Sarah encourages parents and guardians of young children to seek support at the local public library.
"Librarians are amazing resources for finding good books, for readers of all ages, but especially young readers," she says. "Most libraries categorize their books by the author's last name, but young readers don't seek books based on author, typically. Rather they're interested in a particular topic. One of my daughter's earliest words was 'bird,' so we quickly made a trip to the library, and I asked a librarian on duty to recommend some books with birds in them. My daughter enjoyed pointing to the birds in the pictures during story time."
In today's digitally connected world, it's easier than ever to meet librarians who care about supporting parents and teachers as they nurture young readers. Additionally, there are a great number of resources online to help guide and challenge young readers to explore interests, discover new narratives, and sharpen their literacy skills one book at a time.
Sarah's book recommendations for readers ages 0-12 include, Julían is a Mermaid by Jessica Love; Love Makes a Family by Sophie Beer; and Be Kind by Pat Zietlow Miller. Additionally, she recommends @thebookwrangler on Instagram.
Christine Morin, City Year's chief growth and external affairs officer, is mother to two sons, ages 10 and 6.
"I have been trying to be more deliberate about who is writing the stories that my kids are reading and whose stories are being told," Christine says. "I follow the The Conscious Kid on Instagram, an education, research and policy organization dedicated to reducing bias and promoting positive identity development in youth."
Learning is a personal experience and everyone comes to reading with their own unique talents and abilities.
"For one of my kids, reading doesn't come as naturally and that can lead to frustration," says Christine. "But he is an incredibly curious person and a deep learner. So, I put down the chapter books for a while and bought him reference books where he could explore the answers to his endless questions about the world—soccer, cars, inventions, science, geography. That has helped him see that reading leads to meaningful learning and discovery. I think that approach has changed his outlook a bit."
Christine says that her children are currently exploring biographies and love Brad Meltzer's "I am" books and the "Who Was" biography series," which is a great way for children to explore their interests and learn about the life journey of inspiring people.
City Year AmeriCorps members believe in the power of meaningful learning experiences. Throughout their service, they empower students by providing social, emotional support and personalized attention throughout the school day to increase engagement in the classroom. They also encourage students to practice skills that are necessary to take ownership of their own learning.
"AmeriCorps members help to promote a culture of literacy throughout the school day and the school year by creating spaces that celebrate the power of reading," says Allison Thompson, national literacy design specialist. "Corps members share their love of reading with their students and provide quality supports to strengthen literacy skills that help keep them on track."
This intentional space given to creating opportunities for learning reaches beyond time spent reading together in the classroom. "Whole school initiatives such as Read Across America and family literacy nights provide creative planning from AmeriCorps members to engage students and their families," Allison says.
As mother of two children, ages 4 and 8, Allison encourages parents and educators to seek out what sparks joy and curiosity in their children.
"Allow kids to truly think. Let them share their opinions and reflections of what they're learning in any context," Allison says. "This builds their ability to analyze what they are reading and learning."
She recommends the book The Dot by Peter Reynolds. "This book is a reminder of how one simple act of encouragement can empower and ripple out to others," says Allison.
Books for young adults ages 13-17: Recommended by City Year AmeriCorps members
Enthusiasm for literacy is palpable throughout our entire City Year community.
"I'd love to share the young adult novels I'm reading!" said Cheyenne Leialoha Poston, an AmeriCorps member currently serving at Ocala STEAM Academy with City Year San José. "YA is my favorite genre, and I love connecting with students around YA lit."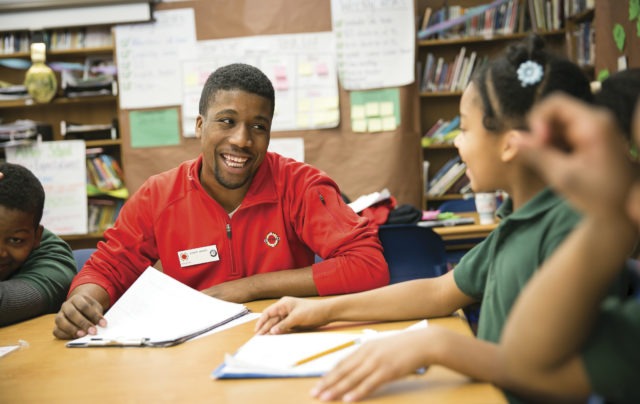 Cheyenne's recommendations include Benjamin Alire Sáenz' Aristotle and Dante Discover the Secrets of the Universe.
"I read that book about two years ago and I'm still talking about it and recommending it to others," says Cheyenne. "It's probably my favorite YA book ever. It so beautifully shows the inner mind of a teen struggling to understand his relationship with his mother, his father, his friends and even himself. It is a real book that doesn't oversimplify or shy away from complex conflicts surrounding identity and its many intersections. The main takeaway for me was the unconditional love of family, whether it be your family by blood or your found family."
Learn more about what it's like serving with City Year and about different leadership opportunities such as becoming a team leader.
Deanna S. Bailey, a corps member currently serving with City Year Miami at Miami Norland Senior High School, recommends Children of Blood & Bone by Tomi Adeymi.
"This YA novel has a different spin on racism and slavery," Deanna says. "Instead of prejudices being based on skin color, there is prejudice toward people who are capable of doing magic. It's a great novel to show how an oppressed group of individuals can overcome their struggles with support, great determination and a strong leader. It also shows that no matter how hard we try to keep division among people, it will never be easy or beneficial to oppress. I am reading this again because the second novel of the trilogy will be released next month and I'm excited to read it. This has become one of my favorite books."
Mimi Miller, an AmeriCorps member serving with City Year New York at James P. Sinnott Junior High School in Brooklyn recommends the Harry Potter book series.
"It is such a good book series for young adults because of the terrific character development," says Mimi. "Also, the clear plot points, archetypes and themes that can be connected to self, other books and the real world."
Yaslin Ruiz, an AmeriCorps member serving with City Year Chicago at Piccolo School of Excellence, recommends With the Fire on High by Elizabeth Acevedo.
"It's a phenomenal book about a teenager who finds herself figuring out life as a young mother raised by her grandmother in North Philadelphia," Yaslin says. "She loves to cook and is completely self-taught. I know I personally always find myself searching for books that I can relate to even in the smallest of ways, whether the author is a young woman, the main characters are women, some aspect of the book takes place in an urban area, or there are references to blackness or latinidad (even better if it's both). Being able to personally connect to a book is what has allowed me to become immersed in the content and helps with learning the technical things about reading, ultimately helping me become a better writer!"
Yaslin shares another book recommendation (for readers ages 17+) from an affinity group and Women of Color Book Club at City Year Chicago. The book is titled The Supremes at Earl's All-You-Can-Eat by Edward Kelsey Moore.
"While I'm only about eight chapters in, I've found my hands glued to the book," says Yaslin.  "It has interesting spiritual components.  I'm excited to be able to talk to other women of color about the novel and their thoughts on the main characters being women even though the author is a man, which I always find to be interesting."
Book recommendations for adults 18+ from the City Year alumni community
Cultivating a love of reading and nurturing a lifelong learning practice are investments in personal growth and development worth making at any age. City Year's alumni community, now more than 32,000 strong, is a group that genuinely exemplifies these values.
Alexis Grant-Panting, City Year Washington D.C. '06, '07, says that serving for two years as an AmeriCorps member made it clear that in order to make an impact, "you have to become a part of that community and be invested."  If you are signing up to serve, do so for the right reasons and not just for appearances, she advises.
"The world is bigger than you and full of injustices," Alexis says. "It's important to pick the battles that you are truly willing to fight."
Alexis' book recommendations include The Working Poor: Invisible in America by David K. Shipler; The New Jim Crow by Michelle Alexander; and White Rage: The Unspoken Truth of the Racial Divide by Carol Anderson. That last book follows major advancements from the reconstruction era (post-Civil War Black Codes) to the white rage expressed after the election of America's first Black president Barack Obama.
"It provides a deep contextual history of race relations in America," Alexis says. "Anderson claims that every time Black people made progress (throughout history), Whites resisted with anger. This resistance, and angry pushback by Whites is the 'paradox of progress' (p. 158) in the U.S. and provides an understanding of how white rage has operated throughout American history."
Our remarkable alumni continue to make a difference in the communities and professions where they live and work.
Kimberly V. Nelson (Providence '97, Philadelphia '98), says that by serving in two different communities, she gained a deeper awareness of the value of diversity and the power of storytelling.
"I choose to read books that reflect our diverse society to become more aware of life experiences that are different from my own and help to build empathy," Kimberly says.
For those thinking of exploring a service year, she recommends diving into books that reflect the diversity of students across the nation.
"I recommend reading YA and middle grade books, particularly contemporary books written by authors who identify as people of color, LGBTQ, people with disabilities, and/or some intersection thereof," she says. "Some of my favorite authors include: Daniel José Older, Elizabeth Acevedo, Jason Reynolds, Jacqueline Woodson, Tiffany D. Jackson, Zoraida Cordova, Angie Thomas and Tomi Adeyemi. The kids are likely reading these books, which have themes in them that resonate with youth and their experiences."
Drine Paul (Providence '15, '16), recommends The Water Dancer by Ta-Nehisi Coates; The Hate You Give by Angie Thomas; So You Want to Talk About Race? by Ijeoma Oluoand; and Pushout: The Criminalization of Black Girls in School by Monique Morris.
"Since my service year, I've read more books about education," Drine says. "I want to understand the field more intently and what expectations are placed on educators, as we continue to fight for equitable education in our schools."
City Year AmeriCorps members often commit to civic engagement throughout their careers long after their year or two of service.
"My time with City Year helped me to understand that I need to be a lifelong learner, especially now that I'm a teacher," says Stefanie Vestal, (Providence '06, Washington D.C. '07).
"It is imperative for me to always be learning more not only about teaching methods and my content, but just learning more about anything. The more I keep myself up to date and informed the better teacher I can be for my students." Stefanie says she strives to set a good example of being a constant learner. "As a history teacher, being aware and knowledgeable of current events is a great thing for my students to see."
Stefanie offers some advice for prospective AmeriCorps members.
"It's important to take time for yourself," she says. "City Year is a job and service is a lifestyle that can really drain a person—physically, mentally and emotionally.  It is important to find outlets and ways to focus your energy. For me that was sports and reading.  I made a point during my years with City Year to try and read at least one book per month that was a personal choice, and I continue to try and do that as a teacher."
Stefanie's book recommendations include The Century Trilogy by Ken Follett. "Much like we experience in City Year, that series is a reminder that hearing and surrounding yourself with people who are different from you in a variety of ways is a valuable thing."
Stefanie also recommends Small Great Things by Jodi Picoult. "As in many of her books, Picoult takes a real topical issue (white nationalism and racism) and weaves an engaging and wonderful story.  It really resonated with me and gave me some interesting things to think about."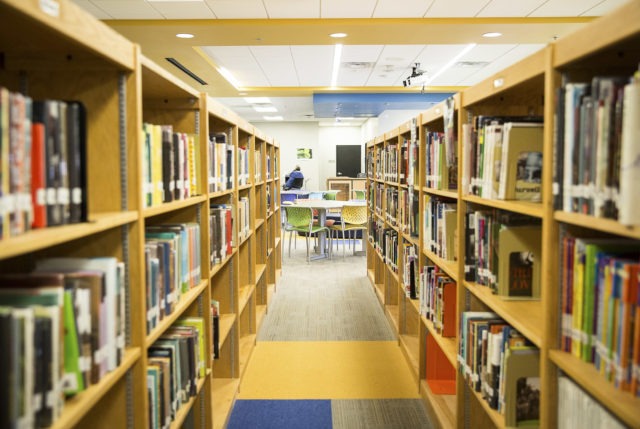 Reading is essential for 21st century success
Regardless of where find yourself in the City Year community, books have and will continue to form the backbone of our conversations, interactions and collaborative learning experiences that bind us to one another. Beyond the experiences we share in our diverse community, reading and lifelong learning are skills that are necessary to succeed in school and in life.
In Literature: Why It Matters," Robert Eaglestone makes the case that the humanities and literature have a pivotal role to play in the future. Eaglestone cites Google's Project Oxygen as evidence of his theory that literacy and the skills gained in studying literature are the same adaptive skills that have been identified as keys for career success in research lead by founders of Google, Sergey Brin and Larry Page, who invested time and resources in examining leadership and the future of work.
"The top six skills for success turned out to be (not technical proficiency but rather) being a good coach, communicating and listening well; possessing insights into others (including others' different values and points of view); having empathy toward and being supportive of one's colleagues; being a good critical thinker and problem solver; and being able to make connections across complex ideas," he writes in a chapter titled What Does Literature Teach?
We at City Year believe that these are also the very same skills gained by serving as an AmeriCorps member supporting students. At a time when a third of students in the fourth and eighth grades are struggling to master the basics of reading proficiency, City Year AmeriCorps members across the country are stepping up, partnering with teachers, families and communities to help young people realize their potential and thrive.
This holiday season, we invite you all to join us in closing out #FamilyLiteracyMonth by considering adding one of the many book titles recommended by members of our community to your gift list.  Help encourage the people you love to read, learn and join this global conversation.
Learn more about service with City Year: