Become a stronger literacy coach
What does knowing students well have to do with being a great literacy coach? Everything! City Year's National Literacy Director Allison Thompson offers advice on how to help students feel more confident about strengthening their reading and writing skills.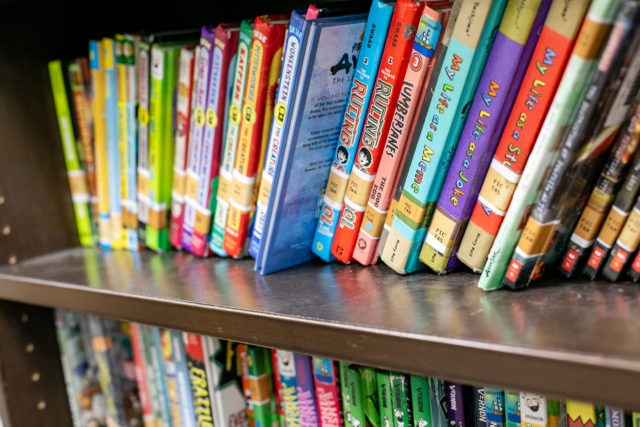 Tips for social emotional learning and student success
With many more students learning together in person at school this year, it's time to take advantage of new opportunities to strengthen their literacy skills along with their social and emotional skills—including cooperation—as they work to understand what they're reading. Reading also helps students build a sense of agency when they speak up about their opinion on a book and can aid in identity formation as students begin to think about themselves as lifelong readers—skills that will benefit them at school and long afterward.
Start by building relationships with students
"Student relationships are at the center of what we do," says Thompson. "Building strong relationships with students is critical to any academic success. Get to know a student and what interests them—that way you'll be better able to connect them with a book or text that they might get excited about. If they're really into music or art, help them find something about one of their favorite artists that they can share. Search together for books including characters and stories that connect to their personal identity."
By spending time with students, you gain insights that will help guide them toward books that they can connect with, which will get them more excited about reading—which is a great step toward lifelong literacy.
Take advantage of school resources
Now that most students are back in their school buildings, there are more resources available to help put books in their hands.
"Get to know the media specialist at your school," says Thompson. "Get familiar with the library so you know where to find books for different age levels and gather ideas for books that are right for your students.''
Does the library have book clubs or book lists? You also can put together a bulletin board that shares information about what you're reading, your students' favorite books, what the class is reading together, or highlights specific authors.
Search for books that speak to your students
"People are drawn toward books where there's an authentic connection—where the text resonates with them,'' Thompson says. "Students are more engaged in what they're reading when they can see themselves in the books." If you need additional resources that might not be available in your school library, you can find inspiration through reading lists published throughout the year during celebrations like National Hispanic Heritage Month (Sept. 15-Oct. 15), Black History Month (February), Women's History Month (March) and Asian American and Pacific Islander Heritage Month (May).
Learn alongside your students
If your classroom reads a novel, read it along with them, Thompson says. "You'll be able to have a true dialogue about that book and participate alongside the student—possibly making connections they're not experiencing in the classroom.''
Seek out resources related to the book that provide insights you can share with students. Reading with them also builds on the relationship with your students by showing the importance of the work they are doing.
Build confidence alongside students
"Reading isn't something that everyone feels confident about," Thompson says. "It might take time for them to feel comfortable reading with you. That's why relationship building is important—so they know you are there to encourage and support them."
"Get to know a student and what interests them—that way you'll be better able to connect them with a book or text that they might get excited about."- Allison Thompson, City Year literacy expert
You might have students who are aware they've fallen behind peers who read or write more fluently. "Think about how you can acknowledge this while also providing goals for your time together,'' Thompson says. "This might sound like `I hear that you're frustrated because you aren't comfortable with this content—let's spend some time working together on this so that you feel more confident.' Or `I noticed that you haven't been speaking up in class, but you shared some really great thoughts with me. Could we spend some time talking about what you've read so you feel better about sharing your ideas with your class?'"
Weaving together literacy with social and emotional skills
With the help of the trusting relationships that students have with you, they'll develop confidence and independence with reading skills over time. This is one way City Year AmeriCorps members serving as student success coaches can help young learners build social, emotional and academic skills.
Supporting students in gaining confidence about their own skills helps build self-awareness, which in turn builds their sense of agency to use what they're learning to create change for themselves and others. Ensuring students have stronger in-school support networks to help them on this learning journey is a step toward educational equity.
Allison Thompson is national literacy director at City Year.
Attend an informational event to learn more about service with City Year or start your application today!