The benefits of a gap year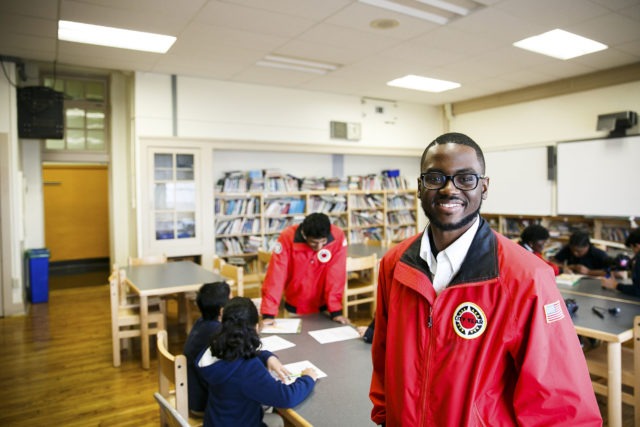 City Year offers a meaningful gap year experience. Every year, we train and support 3,000 AmeriCorps members who partner with teachers and schools to help prepare students with the skills and mindsets they need to thrive in and out of the classroom. Taking a gap year with City Year helps AmeriCorps members build the critical personal and professional skills that employers and universities are seeking But importantly, you'll work in tandem with school communities to help create educational environments where all students can reach their full potential.
Here are just a few benefits of taking a gap year:
Gain Experiences and Skills that Universities and Employers Value
Although you might worry that taking a gap year could set you behind your peers, time spent serving with an AmeriCorps organization like City Year actually offers young adults the opportunity to gain skills and experiences that hiring managers and school admissions representatives value in their students.
According to a major national survey of AmeriCorps alumni, nine out of ten reported that their national service experience had improved their ability to solve problems and interact with people different from themselves; and eight out of ten said the experience had benefitted their career path.
More and more, colleges are encouraging their students to take a gap year. Not only does this allow students the opportunity to gain real-world experience; they also have the opportunity to explore their personal and professional passions — setting them up for success.
Employers also find value in the skills that job applicants gain during a service year. To date, there are 475 organizations enrolled in the Corporation for National and Community Service's (CNCS) Employers of National Service program. You can view a list of employers who are interested in connecting with national service alumni here.
Learn Real-World Skills that Will Transfer to Any Role or Job in Your Future
Gap years spent doing national service aren't for slackers or for people who are avoiding "real-world" responsibilities. AmeriCorps connects over 75,000 Americans with intensive opportunities throughout the country, including over 2,000 programs that focus on education, the environment, public health and safety and homeland security.
Over the course of the year, you are given the opportunity to learn real-world skills that are easily transferable to any role or job you'll hold in the future. The American Gap Association even found that one of the top outcomes that gap-year takers report is that, "[it] provided me with additional skills and knowledge that contributed to my career."
Communicate the Value of a Gap Year with Your Family and Friends
It's a family's job to worry about their children, so they will naturally have a lot of questions about gap years. Make sure to hear them out, but also do your research! Here are a few resources that can help you discuss this opportunity with them and answer all their questions: FAQs.
After that, if your parents and family still aren't sure? Why not show them what other parents think about City Year.
Here's what one parent of a City Year AmeriCorps member had to say:
"While we supported the idea of a gap year and liked the idea of Jacob being engaged in a social enterprise, we knew very little about City Year and found ourselves doing due diligence during the short time between when he was accepted into the program and when he had to commit.
We became familiar with the website and tried to connect with folks in our lives that may be familiar with City Year. We heard only good things and then came a particularly powerful endorsement from a family friend who is now the president of a Midwestern University.  He said that he recommends a gap year for most high school graduates as they are better prepared for college and the college is better prepared for them." Then he added, "City Year is the gold standard for gap year programs."
Learn more about serving with City Year:
Editor's Note: This post was originally published in September 2016 and updated in July 2017, June 2019 and October 2019.