City Year joins Comcast NBCUniversal to bring 18th annual Comcast Cares Day to life
The celebration of volunteerism and service highlights the strength of
Comcast NBCUniversal and City Year's year-round partnership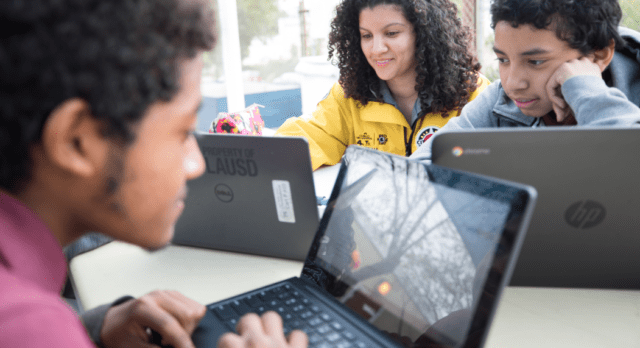 BOSTON, MA (May 3, 2019)–This Saturday, May 4th, City Year will once again join forces with Comcast NBCUniversal in celebrating the 18th annual Comcast Cares Day, one of the largest corporate commitments to volunteerism and service in America and an illustration of the company's year-round dedication to giving back.  More than 1,000 City Year AmeriCorps members and staff will participate in Comcast Cares Day projects to "make change happen" in 13 cities across the country. Comcast Cares Day projects in partnership with City Year include:
Lilla G. Frederick Pilot Middle School and Martin Luther King Jr. K-8 School, Boston, MA (City Year Boston): Nearly 350 Comcast NBCUniversal employees, family and community members will paint murals and graphics in schoolyards, clean up outdoor spaces and pack hundreds of supply kits for students and school staff.
William McKinley School, Philadelphia, PA (City Year of Greater Philadelphia): Nearly 350 volunteers will brighten the hallways of the school by painting murals and inspirational quotes, and enhancing outdoor recreation areas.
Public School 75, School of Research and Discovery, Bronx, NY (City Year New York): Nearly 175 volunteers will paint colorful patterns and graphics on the walls, design games on the playground, and help to construct benches and tables for students to feel safe and engaged during recess.
Telfair Avenue Elementary, Los Angeles, CA (City Year Los Angeles): Nearly 350 volunteers will paint inspirational artwork, beautify the outdoor landscape, and assemble kits with essential items for students.
"City Year is proud to once again take part in Comcast Cares Day, and to serve alongside Comcast NBCUniversal employees," said City Year CEO and Co-Founder Michael Brown. "This exciting day is a tremendous opportunity for us to all come together to serve the schools and neighborhoods where students strive every day to fulfill their great potential."
Since the first Comcast Cares Day in 2001, more than 1 million Comcast Cares Day volunteers have contributed over 6 million service hours to improve local communities at more than 10,000 projects around the world.
In 2018, City Year and Comcast NBCUniversal entered into a three-year partnership renewal agreement, bringing Comcast NBCUniversal's overall support of City Year to nearly $115 million cash and in-kind. This is a continuation of Comcast NBCUniversal's recognition as a City Year National Strategic Partner. Through the partnership, Comcast NBCUniversal continues to support City Year's national strategy to bring more computer science and coding experiences to students served by City Year along with their support of leadership development and training efforts.  Additionally, in the 2018-2019 school year, Comcast NBCUniversal, in partnership with Red Nose Day, is sponsoring 23 school-based teams of City Year AmeriCorps members in 17 U.S. cities.
###
About City Year
City Year is dedicated to helping students and schools succeed. Diverse teams of City Year AmeriCorps members provide support to help students stay in school and on track to graduate from high school, ready for college and success in career and in life. Research shows that schools that partner with City Year were as much as two-to-three times more likely to improve on math and English assessments. A member of the AmeriCorps national service network, City Year is funded by the Corporation for National and Community Service, local school districts, and private philanthropy from corporations, foundations and individuals.
About Comcast Corporation
Comcast Corporation (Nasdaq: CMCSA) is a global media and technology company with three primary businesses:  Comcast Cable, NBCUniversal, and Sky.  Comcast Cable is one of the United States' largest video, high-speed internet, and phone providers to residential customers under the Xfinity brand, and also provides these services to businesses.  It also provides wireless and security and automation services to residential customers under the Xfinity brand.  NBCUniversal is global and operates news, entertainment and sports cable networks, the NBC and Telemundo broadcast networks, television production operations, television station groups, Universal Pictures, and Universal Parks and Resorts.  Sky is one of Europe's leading media and entertainment companies, connecting customers to a broad range of video content through its pay television services.  It also provides communications services, including residential high-speed internet, phone, and wireless services.  Sky operates the Sky News broadcast network and sports and entertainment networks, produces original content, and has exclusive content rights.  Visit www.comcastcorporation.com for more information.