Why I chose to serve with City Year Milwaukee 
I decided to serve with City Year Milwaukee because it was something that I wanted to do while taking a gap year from college. When I first heard of City Year, I found it as an ad on Facebook. Since it continued to pop up, I decided to look at the website and see what it was all about. After learning more about the work City Year did, I applied, and started my service year as an AmeriCorps member at Bay View High School, in November of 2018. 
I felt like City Year was a great steppingstone of helping me decide if I wanted to work with children. In the past, I went back and forth on whether working with children fit into my career plan, and if it did, then I wondered how. When I first started service with City Year, there was nothing specifically that inspired me to serve. However, as I showed up to service every day, my students quickly became my inspiration.
When I first started at Bay View High School, I was nervous about how the students would react to me and if they would even like me, but I quickly started to create long lasting relationships with my students by relating to them and helping them in the best way that I could.  
Helping my students, and being there to support them, continues to motivate me every day to serve. I love being able to be a support system for them and just being able to connect with them every day. I feel the same way in my second year of service with my students at South Division High School. Even though I am in a new role this year as a Team Leader, I still wanted to be able to connect with students and help them as much as possible. I have made connections with students this year who make it worth coming to service every day. My students are what remind me of why I serve even on the hardest days.  
Are you interested in applying to do a year of service, like Shontrice? Learn more about the benefits of completing a year of service, and how it's much more than a gap year, here.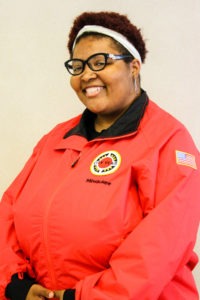 About the author: Shontrice Cross is a proud City Year Milwaukee Team Leader serving at South Division High Schoo. When asked why she serves, Shontrice said, "I serve because I want to give back to the very community that I grew up in. I've personally seen what my counterparts at MPS went through in high school and I want to help change that for the next generation. I serve because there is so much potential in today's younger people that should not go wasted. I want them to know that someone is in their corner at all times. I serve for the young black children who are told that they are a "bad" student, but they really need more attention than the average student."