The Good within a Hard Year
This past year has been nothing short of a rollercoaster for all involved. It is easy to look back and only remember the struggles we faced. But I challenge and encourage everyone, like I challenged myself, to find the good in the trials and tribulations. 
The skills I have gained and sharpened throughout the last 10 months are endless, but I want to focus on a select few. As a first–year AmeriCorps member, I wasn't sure what to expect from my service year being virtual or what my role would look like day–to–day. What I can tell you is that each day was a new experience and that is why my first skill I will focus on is flexibility.  
It's Important to Have a Flexible Mindset. 
Showing up every day with a flexible and open mindset has made this journey all the more enjoyable. Whether it is technology issues, a substitute teacher unfamiliar with how our class runs, or anything else that has come up, being open and almost expecting things to change daily helped me stay positive. I was able to let go of the frustration I may have had if I was upset 'things weren't going the way they were supposed to.' I know that life doesn't always go to plan, even if I am an avid planner. With having things out of not only mine, but most peoples' control allowed me to practice a flexible mindset which in the past has not come easy to me. As I like to say, 'practice makes permanent.' I am so thankful for my new outlook and will carry this competence into everything I do moving forward.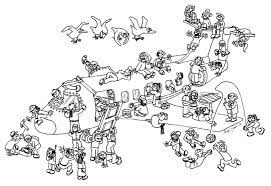 My Service Year Helped Me Practice 
Problem-solving
. 
The next two skills go hand in hand because I could not have successfully problem solved anything this entire service year without collaboration with my team. Serving virtually has been such a new experience for all involved and with new experiences come new challenges to overcome. To my benefit, I have so many great thought partners at my disposal. My partner teacher, Impact Manager, and Team Leader have been instrumental in working with me to use out-of-the-box ideas this entire year. These strong relationships allow these conversations to happen easily and create a safe space for me to think outside of the box without feeling judged.  
Collaboration is Key
.
My team and I have also been working as a whole this entire time to figure out how to best serve our scholars during a difficult year. Whether it has been brainstorming ways to get more social connection through a virtual game room or starting an attendance initiative to encourage students to attend classes, we have used our communication and judgement-free attitudes to let ideas flow and thankfully this is where it has led us.  
I imagine a typical service year brings so many wonderful opportunities to learn or sharpen a skill, what I couldn't imagine was serving virtually during a pandemic. This new normal is not something I want to stick around forever, but I am glad that when I look back at my time in City Year, I will be thankful for the grace and patience I was given by my coworkers and students on top of my well-mastered skills of flexibility, problem-solving, and collaboration.   
About the Author:
Casey Kleeman is honored to serve on the Northwestern Mutual Team at Clarke Street School and is a proud alum of Marquette University. When asked to reflect on her year of service, Casey said, "The community of Milwaukee has filled my heart so full and I am so grateful to be able to support and feed into our future leaders of our city and the world. If everyone has a champion in their corner, they will feel unstoppable and that is what I want for all of my scholars."