Ruth Durrell: I wish you an abundance of water
At the end of each service year, AmeriCorps members nominate one of their peers for the Spirit of City Year award. This award winner also represents their corps by giving inspirational remarks during their graduation ceremony.
This year's award winner was none other than AmeriCorps member, Ruth Durrell, who proudly served on the Barack Obama School of Career and Technical Education team. Her graduation remarks were incredibly memorable. Check them out below.
Corps 11, when we all interview for other jobs, be sure to tell them about your ability to work independently, as a team; your flexibility; and expertise at adapting to rapid change on top of elevating students and reminding them of their inherent power every day.
You're all phenomenal human beings. We weren't called to do this work virtually– we signed up to be in classrooms, to give direct service, to be a Beloved Community. Though things didn't look how we expected, we did all these things and more. There's no real or fair measure of impact in a year like this, and I want you all to know that you made a positive impact. It's easy to forget yourself when you are doing loving, caring and revolutionary work. If you're here today, you are successful. Practice that BOTH/AND thinking! We hold and celebrate our personal successes and impacts alongside our impacts on students and their successes.
As I reflected on this year, I've thought about the things I've learned and the things I want to leave you with and remind you of them.
Focus on who, not what, you want to be
While in middle school, like many of our students, I remember being asked what career I wanted. I thought I was going to be a biomedical engineer . . . that changed very quickly when I took AP biology and AP calculus. It wasn't until college that I realized it matters less that I specify right now what I want to do and that who I wanted to be was the most important thing. By giving a year of service to Milwaukee and our students, you've already taken steps in deciding.
Never ever talk yourself out of an opportunity
A mentor once told me that I am not allowed to limit myself because I don't even know my fullest potential. You always try and let the powers that be tell you whether you are ready. The worst thing that you will get is a response saying you weren't chosen this time and the best thing you can get is the experience.
Pour into what, and who, pours into you
When you show love and care to others, like our students; when you spend time uplifting others, like our communities; when you put time and energy into good work, like changing educational systems of power and oppression; you pour water into other's cups, and you nourish them. When you do the things you love, when people love you, when people invest their time in you, your cup is filled. There is not always an even exchange that allows for your cup to be full. Sometimes we pour ourselves into people and things that do not pour back into us.
Find people and communities who fill you. Please don't ever go empty. I wish you all an abundance of water– of overflow.
Gratitude
We all stand on the shoulders of giants. Visualize the people who helped you get here and complete this year of service. Whether they are friends, family or teammates (the person that popped in your head right away), express gratitude to these people. You're now a part of this foundation and you are a giant, who others will stand on and be guided by. Express gratitude for yourself, because without Self, who would do this phenomenal work?
Ubuntu
Now this is straight from the City Year website and also my favorite City Year value, because I believe that it encompasses all of the other values!! Ubuntu is a term borrowed from the Zulu tribe of South Africa that means, "I am a person through other people; my humanity is tied to yours." In a world where division is encouraged and selfishness expected, it is a necessary and radical act to love and care for one another. What we do is a radical act of giving, care, love, and belief. Not every person will feel this way, but how you choose to engage with them makes you the person you are. You are tied to your students, this community, and each other.
I wish you all joy, love and courage. Lift others as you climb higher. Get others free as you free yourself. You have everyone in this room with you.
Congratulations Corps 11 of City Year Milwaukee!
Wondering what's next? Maybe a red jacket is in your future. Find out by applying to serve with City Year today!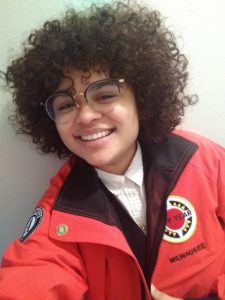 About the author: Ruth Durrell proudly served as a City Year Milwaukee AmeriCorps member on the Barack Obama School of Career and Technical Education team. After her year of service with City Year, Ruth Durrell began her service with Teach for America.