Remaining Passionate About Service in the Pandemic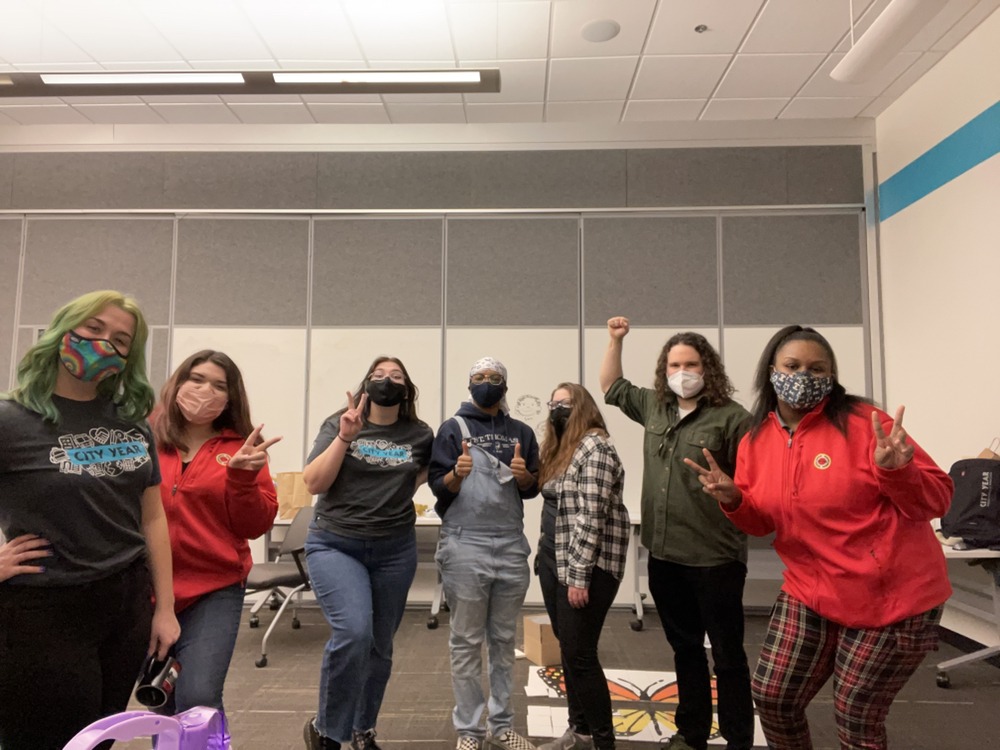 When service started this year my mind was racing with questions. Some of the questions were, "Will I still make an impact this year being virtual?" and,  "How will my role look in a virtual classroom?" This mindset was harmful for my growth, and as the year progressed, it was clear that AmeriCorps members' role in schools were more important than ever. 
At Casimir Pulaski High School, where the first-year AmeriCorps members focus on helping freshman students, our presence was essential. Students gathered online for their first high school experiences and barely knew any of their classmates. This made the classroom feel even more daunting. These unfamiliar circumstances made our mission simple: we needed to focus on the social and emotional development of our students during this time. 
Initially, Google Classrooms appeared to be uninviting to students. I pondered how to create relationships with students I can't see or hear. I felt very disconnected from the students as I stared at the profile pictures of 30 students. Is this what relationships look like in our modern world? But to develop relationships you don't need to see the student face–to–face. You can build them verbally or through the chat. This pandemic has completely changed my ideas of what a relationship is and how we build and foster these. As we began to get more comfortable with not only virtual learning but each other, I learned more about the injustices my students were facing.  
This pandemic forced us to bring work, home. This was a unique opportunity to get an inside view of students' lives, which opened my eyes to the inequalities my students were facing. For starters, there is inequitable access to technology for many of our students. There were numerous students who missed the first few weeks of school because they didn't have a Chromebook, and didn't know how to get one. Once we finally were able to get those students in the virtual classroom, another issue arose: we saw that many students did not have a quiet safe space to complete work. It was also apparent being in the high school space, that many of our students already have other responsibilities that they had to do such as taking care of younger siblings and having jobs. With all these other distractions, it is understandable why sometimes education becomes an obstacle, but our team has made ourselves accessible to help the students complete work on their own time by holding an after-hour space.  

Three Main Tips on How I Maintained My Passion for Service
Thus, the beginning of the year was daunting, but as time progressed I found strategies to strengthen my relationships with students and kindle my burning passion for service. Here are my three main tips on how I maintained my passion for service during the world-altering Covid-19 pandemic: 
Number one, embrace a growth mindset. Remain inquisitive and open to learning new ideas every day. Instead of getting upset at every misstep or imperfection try to simply learn from mistakes and move forward. Learn to take pleasure in doing your best rather than agonizing overwork or outcomes that are never quite good enough. 
Number two, brace yourself for adventure and enjoy the ride. Over this past year I learned that if I wait until I feel ready to do something, it will be too late. It's actually very easy to lead an extraordinary life and make an impactful change — you just need to be willing to do the things that others are not. This is often the things that are a little too hard, take a little too long, or are a little too uncertain. Professionally and personally, I took more risks, did things without worrying about how I might be perceived, and started down paths without knowing where they would lead, and that led to the best service year of my life.  
Lastly, number three, understand your impact. Think about how what you do positively impacts the community or even society at large. It helps to connect with the purpose of what you do and to see the difference that you're making. Try to keep these ideas at the forefront of your mind.  
Serving my students in Milwaukee Public Schools has strengthened my desire to be a resource for students in this district, the same district I attended as a student. Service may not be what we envisioned, but there is still so much to be grateful for and we have created new tools that we can apply in the future, such as virtual meetings with parents who have busy schedules, or office hours from home. Some may have given up hope during the pandemic, but I feel more inspired than ever.  
About the Author:
Katie Krause serves as a first-year AmeriCorps member on the Casimir Pulaski High School team in the 9th grade, Biology classroom, and is a proud alumnus from the University of Wisconsin Madison. When asked why she serves, Katie said, " I serve because I was raised by Milwaukee Public Schools and it is my honor to give back to my community through the empowerment of our students. It is my mission to create safe spaces for students where they feel as if they can be their full authentic self so that they are comfortable and ready to accomplish their own academic aspirations."