How my students taught me an important lesson of empathy and seeing the good in everyone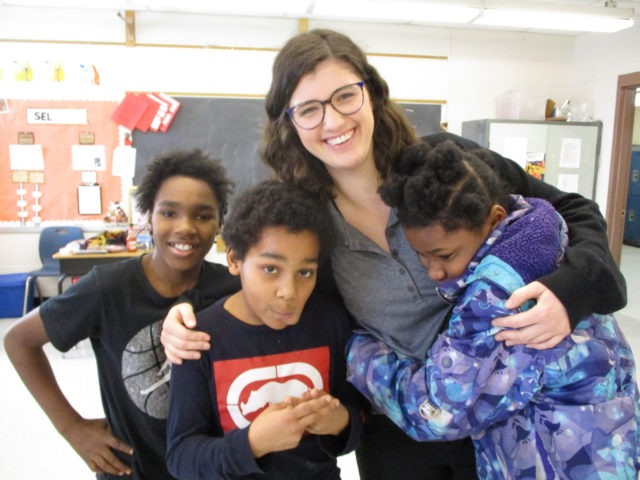 When I began my service year, I was told how much of a difference we would make in the lives of our students, since one of the most important aspects of being a City Year AmeriCorps member is being a role model for our scholars.  
Throughout training sessions, I heard countless stories from former AmeriCorps members discussing not only what they taught their students, but the important lessons they learned from the young people that they served. Of course, I wasn't surprised to hear this, but it wasn't until I built relationships with my own students, and spent every day with them, that I could experience this firsthand. 
Since schools shut down in March, and in-person service has been significantly cut short, I've had a great deal of time to reflect on the many ways my students have positively changed my life and taught me lessons I would have never dreamed of learning in such a short time. 
Belief in the power of young people
One of the main reasons that I decided to complete a year of service through City Year is my belief that each individual is important, no matter how old they are. Throughout my life, I have too often seen the thoughts, mental health and beliefs of children being disregarded by adults. 
As a City Year AmeriCorps member, I see the importance of understanding the emotional causes of a student's behavior, in order to best support them. One of City Year's main philosophies discusses the importance of never seeing a child as a "bad student" and understanding that disruptive behaviors do not define who our students are. Every day, my students showed me how important this philosophy truly is.  
Although it might sound cliché, I discovered this when I simply got to know my students. I didn't see them solely as fifth graders, but I saw them as people. My students taught me the power of listening and how important it is to see the good in people. 
When I first started service at my school, it came with many challenges. However, it wasn't until I spent time with my students and worked hard to build meaningful relationships with each and every one of them, that I learned more about how their personal struggles impact their actions inside the classroom. 
By taking the time to consciously support our young people and show them unconditional love, that's when we see how special they really are.  
The student who's seen as a troublemaker by some, is incredibly artistic and loves to paint. The fifth grader who is always getting up during class and running around the halls because she has ADHD, is more empathetic than most adults that I've met. The boy who can't focus during math and has trouble trusting adults has a great sense of humor and is an amazing basketball player.  
My students have taught me that each individual has unique and wonderfully positive traits to offer, and it is important to find these in each person. I am so thankful for the experience that City Year has given to me over the past school year and I wouldn't change a single aspect of my time with my incredibly talented, kind, strong and misunderstood students.  
Interested in learning more about serving with City Year Milwaukee? Connect directly with the Local Recruiter by filling out this interest form.
BIO AND HEADSHOT: Kristina Stamm is a proud first year AmeriCorps member with City Year Milwaukee. She is currently completing service hours from home and has plans to attend graduate school in the fall to become a mental health counselor.