Social-emotional learning with Asalia
Social-emotional learning is a way that City Year can support students in acquiring tools to better understand and navigate their world. Customized interventions are held to assist students in managing their emotions; they also develop tools for positive behaviors, internally and externally. Teaching these tools to students can have a strong impact on their academic and adult lives. Social-emotional learning is one of the ways I get to support my students throughout the school. This year, I was fortunate to work with four freshman students one-on-one in this area. I supported them with their social-emotional learning, through goal setting. One student, in particular, has made a vast improvement in his goals. At the beginning of the year Bardock* had difficulty in controlling his stress.
Stress management was never our main goal until one day he had a breakdown in class. We started to do deep breathing in the hallway, and then we brought it in the classroom. It was a helpful tool for him, and he mastered doing it discretely. In class, I would usually squat next to him and remind him about breathing or relaxing. Other students would listen, Bardock voiced that he did not want others knowing. We came up with a system; I would tap his desk and just stand around his area for a couple of minutes. Our system allowed him to breathe alone while knowing I was there if he needed me.
Additionally, self-advocating is something I always tell my students that they should practice doing. I saw the most growth in Bardock when he started requesting to expand his goals to fit his most updated needs. We shifted from deep breathing to taking five minutes, at the beginning of class, to mentally prepare. Overtime, Bardock started to become more open and genuinely less stressed. He has taken initiative in understanding the areas he can control.
This year Bardock has come so far. I am happy to see him develop social-emotionally and in academics. Bardock may not know it, but he has made an impact on me. Through working with him, I was able to do stress management skills as well. But, Bardock made me more aware of the mental standings of my other students and within myself. He has further proved to me the importance of baby steps. Even though I have seen a change in him, he gives me hope that the other students I work with will develop as stronger individuals too.
Read an update on City Year's response to the Coronavirus situation.
Now more than ever, I think about my students' social-emotional needs. And once students return to the classroom, they will need time to reflect, sort and vent their feelings or frustrations. Being under quarantine takes a toll on adults, so I imagine how it must feel for younger individuals. If and when I see my students again, I plan to refresh their minds on the tools they already know. Implementing journaling would be beneficial because it would allow them to reflect and write down their feelings. But most and above all, I look forward to establishing an environment with our team and school staff, so every student knows we are there for them.
*Student's name has been changed to protect their privacy.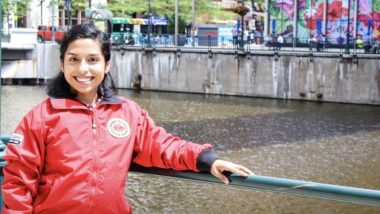 Asalia Subia proudly serves as a Milwaukee City Year AmeriCorps member and is a proud alum of Old Dominion University in Virginia. When asked why she serves, Asalia said, "I believe all students are capable of building the futures they dream of; I serve because I also believe not all students are given the same tools to do so. I choose to serve with City Year to show the young voices of the future that they too can run with the elite."