An update on the Network for School Improvement program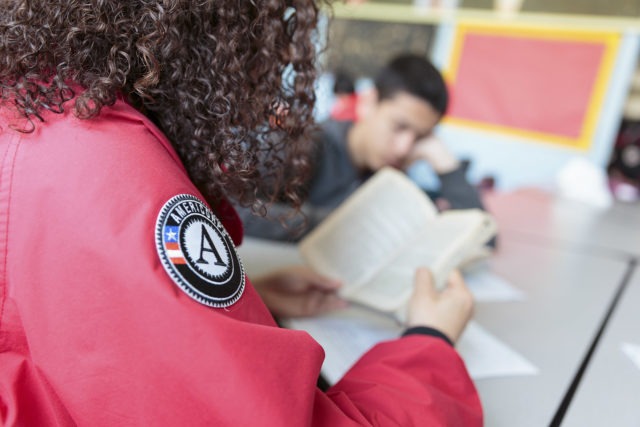 This year, City Year Milwaukee was chosen to be a part of the Network for School Improvement pilot program. Together, Milwaukee Public Schools, the Johns Hopkins University Everyone Graduates Center and City Year, work with a collection of school teams to improve the outcomes for Black, Latino and low income, 8th grade students.
The work is done by using continuous improvement sciences, a researched method that encourages schools to choose small changes through data and the creation of equitable teams. Together, each team tracks incremental changes in high impact areas at their schools, including:
Greeting students by name at the beginning of the school day and in the hallways
Finding opportunities for school teachers to build relationships with their students like eating a hot breakfast together
Providing options for students during recess to encourage student voice and choice
Conducting empathy interviews in which students are asked about their behavior and performance in class in order to ensure that the changes that take place come from a student-centered perspective
In Milwaukee, five schools are participating in the pilot program, and we will grow into five more schools in the fall. When asked if the NSI participants value the opportunity to be a part of the Network of School Improvement pilot, 100% agreed, or strongly agreed, in the value of the program. The school teams involved in the pilot program meet quarterly, and recently came together on March 25th, to share the results of their work. This was a day filled with knowledge sharing and collaboration. Each school presented on the successes and learnings of the programs they have implemented and received feedback from the other school teams.
The day also included an expert from the field, Nikotris Perkins, from Ubuntu Research, who discussed the role of dignity when supporting students and building relationships.  One participant commented, "I enjoyed the Compliance and Dignity workshop… After the workshop I found myself being much more conscious of my own biases and if I am actually working towards having more dignified spaces for our young people."
The day concluded with brainstorming time for teams to develop their next plan for their school. A principal shared, "I enjoyed spending uninterrupted time with my team working on the 'Plan, Do, Study, Act tool.'" This tool is a guide that school teams use to think about what change they will implement and how they will know if their change was an improvement.
The Network for School Improvement will meet once more on May 28th to have its final session of the year with the current five school teams.
Written by Paola Deliz Félix Encarnación, Senior Director, Network for School Improvement