Celebrating World Kindness Week 2021 with Snapchat and City Year Los Angeles
Earlier this month our Los Angeles Civic Engagement Team teamed up with our partners at Snapchat for World Kindness Week 2021! Over the course of three days, our team supported 580 Snapchat volunteers in both virtual and in-person service projects that will benefit over 1,200 students in Los Angeles and Inglewood. Keep reading for a closer glimpse into the projects and how these two organizations were able to come together through service.
"We were thrilled to bring our Snap team members together to participate in volunteer service projects for the first time since March 2020. An immense amount of gratitude to the City Year LA team who thoughtfully curated two service opportunities across three days. Our team painted individual canvases that created a large mural to be displayed at a high school in Inglewood and assembled over 500 student wellness kits for local Inglewood elementary school students. We are beyond grateful for our continued partnership with City Year and the meaningful impact we can contribute to our local students and schools year over year."
-Lindsey Heisser, Program Manager, Global Philanthropy, Snap Inc.
To kick off the World Kindness Week celebrations, each morning started with a virtual painting session for volunteers who were unable to join in person. Each volunteer was charged with painting two "pieces to the puzzle," that will come together to create three massive murals that "reflect and encompass ideals such as inclusivity, empathy, and teamwork." Once all the pieces are collected and assembled, they will be housed at a local City Year L.A. partner school, brightening school halls and directly impacting over 700 young scholars every day.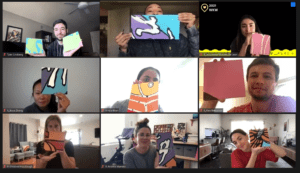 For the in-person portion of the service days, volunteers gathered at Snapchat headquarters to build out "Student Wellness Kits" for 500 students at Frank D. Parent Elementary School, one of City Year L.A.'s newest partnerships in Inglewood Unified School District. Each wellness kit was composed of three major components assembled by volunteers: new school supplies such as folders, index cards, white boards and crayons, hygiene packs containing supplies like hand sanitizer and floss, and an interactive recreational activity – colorful moon sand that kids can make from scratch! Each pack also had personalized pencil pouches and multiple messages of encouragement, hand-crafted by volunteers.
"We are so excited for our students to receive these gifts and knowing that they were compiled by a great group of individuals who came together to champion students through service makes this project that much more fulfilling!" said project leader, Desire Garcia. "It felt nice seeing the Snap volunteers enjoying themselves and building community [through the service projects], it felt like everything paid off."
"In all three years of managing the Civic Engagement Team, I cannot be prouder than I am of the seven Project Leaders on my team this year. Alongside our corporate team, we had a brand-new model of service that incorporated the limitations of the pandemic that we are still currently in, and my team took it on with effortless ease. Our Snap Team (Lindsey, Camille, and Chandelle) were mighty champions in making these powerful three days of service possible. It is always a wonderful time collaborating with our Snap Team, but this year was something magical. I am elated that we were able to evoke so much support and encouragement to the students of Inglewood and Los Angeles alongside the wonderful Snap Team. I cannot wait for next year."
 -Kurcel Joseph, Program Manager, Los Angeles Civic Engagement Team
Thank you so much again to the team at Snapchat for collaborating with us for another successful World Kindness Week. We are so grateful for your continued partnership, and the excitement and genuine passion your team has for supporting students in their academic journey.
We also want to extend a huge appreciation to our Los Angeles Civic Engagement for spearheading these large-scale service projects, especially given the restrictions of the pandemic. The measures they took to not only keep everyone safe but engaged and supported in their efforts to serve throughout the week was truly inspiring. Their innovation, creativity and tenacity taking on these projects will impact so many students, THANK YOU!
###