Women Leading Service: Get to know our Program Directors
To celebrate Women's History Month, we wanted to give everyone a glimpse into our service and the incredible women who help oversee the work being done at our school sites. Of our six Pueblos, groups of school teams that serve in the same communities, four are led by women, altogether spanning 20 school sites. These fearless leaders, Brittani Serna, Dorian Garcia, Erin Willis and Jeanny Marroquin bring such passion, determination and spirit to the City Year L.A. community, and we are so grateful to serve alongside them. Keep reading to see what motivates their work and what advice they have for the next generation of female leaders.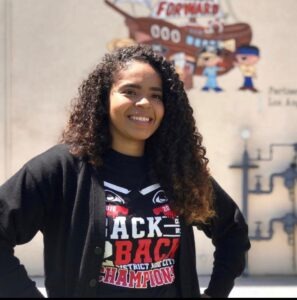 Brittani Serna 
City Year LA Program Director, Never Doubt Pueblo 
"Advice I would give a young woman interested in pursuing a similar career as me is to never doubt her capacity to lead, even if she feels she is not ready. Our growth as leaders begins on the edge of our comfort zone, and her goals should scare her. 
What I appreciate most about my Pueblo is the resilience I see in the young people serving the scholars at our schools. They bring their authentic selves to service every day and remain so open to learning from their students and teachers despite the limitations of virtual service. I also admire the way teachers and staff of our school communities banded together to find new ways to reach students when virtual learning seemed like an impossibility. These two groups inspire me every day." 
Brittani Serna is the proud Program Director for City Year LA's Never Doubt Pueblo, which serves the South LA, Inglewood and Watts communities. She oversees the teams and partnerships at 75th Street Elementary, Markham Middle School, Crozier Middle School, Jordan High School and Flournoy Elementary School. 
Dorian Garcia
City Year LA Program Director, Sand Into Diamonds Pueblo 
"I would advise young female-identifying folks to ask any and all questions to absolutely everyone! Be curious and take risks. You belong in any space you choose to be in. Don't be afraid of being the loud one, the opinionated one, or the one with all the questions, because we need people like you!" 
For Dorian, the best part of holding the position of Program Director is, "building relationships and connecting with my Program Managers and AmeriCorps members. This organization brings together such incredible people to do such incredible work, and I feel grateful every day that I am able to multiply our work in schools with students through relationships with my Pueblo." 
Dorian Garcia is the Proud Program Director for City Year LA's Sand Into Diamonds Pueblo, which is made up of our school partnerships at Santee Education Complex, Manual Arts High School, Menlo Elementary School, NOW Academy and Belmont High School. Dorian helped establish this pueblo this past year, after the list of schools she oversaw shifted, sharing, "It has been incredible to develop a vision rooted in the Sand into Diamonds founding story and use that to bring together an incredible team of Program Managers and eventually, a Pueblo of AmeriCorps members." 
Erin Willis 
City Year LA Program Director, Bridge Builder Pueblo 
"The advice I would give a young woman interested in pursuing a similar career as I is to never forget that she deserves a seat at the table just as much as anyone else, and that she should never hold back her thoughts, opinions or ideas for the sake of other's comfortability. I would tell her to speak up, be bold and be unafraid to shake things up and fight for what she believes in. 
Serving as a PD means a lot. In my five years with City Year L.A. (CYLA) I've seen the impact that organization leaders have on staff, AmeriCorps members and the students and communities we serve, and I consider it a great privilege to be in this role and make an impact in my own way. I'm super grateful for the opportunity to serve as a leader in the organization, have a role in making decisions that will shape the future of CYLA and advocate for the folks that I lead and serve." 
Erin Willis is originally from the suburbs of Philadelphia and moved to LA five years ago to start her career with City Year as an AmeriCorps member in 2016, serving at a high school in South Central Los Angeles. She continued her service to students in South Central as a Team Leader, Program Manager and now as the Program Director for City Year LA's Bridge Builder Pueblo. She oversees our partnerships at Ascot Elementary School, Carver Middle School, Jefferson High School, Nava College Preparatory and Bethune Middle School. 
Jeanny Marroquin
City Year LA Program Director, Water Pueblo 
"'Si Se Puede' is a chant that has been known for generations to mean hope, possibility, opportunity, change and a better future. These are the kind of words that I associate with my work. As a Los Angeles native and LAUSD alumni, our service is very personal to me. The mentors, tutors, advocates and change agents we recruit are individuals that I wish my sisters, brothers, cousins, nieces and nephews had in their classrooms when they needed to feel safe, seen, heard and supported.  
When I see our teams leverage their talents, skills and passion to create moments of joy, laughter, curiosity, reflection and 'ah-ha!' moments of learning for our students, I know that we are doing the work that we need to do to create spaces and opportunities where AmeriCorps (ACM's) can thrive as leaders. The irreplaceable moments that our team's curate are the moments that remind me of why I am so passionate about our work. It is when ACM's tap into their passion that I am reminded of moments when I feel like I am soaring because I am doing the work that I am meant to do."  
Jeanny Marroquin is a Los Angeles native, proud daughter, aunt, sister, education advocate and LAUSD Alumni. As a City Year Los Angeles Program Director, she oversees the school partnerships at Mendez High School, Roosevelt High School, Hollenbeck Middle School, Stevenson College and Career Preparatory and John Liechty Middle School, making up our Water Pueblo. She is passionate about asset-based youth development and race and education equity.