When Service Changes Your Life – Erin Willis
City Year L.A. alum, Erin Willis ('17 and '18), shared her story of impact and reflected on her years as an AmeriCorps member at our annual fundraiser, Eat. Drink. Give.
[Check out the Eat.Drink.Give Gallery here]
Her inspiring story underscores City Year's impact, not only on the students we serve but also on the AmeriCorps members who serve in schools from sunrise to sundown.  Read Erin's inspiring story below.
"Gabino was up again. There were two doorways to the classroom, and Gabino had a habit of making circles – walking out one and coming back through the other when he could no longer sit still at his table. Thirty kids were crowded into this classroom. Mr. Mendez was up at the front, trying to get through his lesson plan, but there were so many kids —out of their seats, chatting with their desk neighbor, phones out, earbuds in, so much going on you barely knew what to pay attention to.
Sitting in the corner was Britney. It was easy to fly under the radar in a classroom full of students with so many different needs. You often got attention if you were high achieving, or highly disruptive. But Britney was neither. She was just minding her own business, trying to take notes and figure out what exactly she was supposed to be doing.
In my first month as a first-year City Year AmeriCorps member, my only task was to observe and learn about the students I was newly introduced to. I was to sit next to various kids throughout each class period, talk to them, help them with their coursework, and get a sense of how they were doing so I could use my training to identify the ones who would benefit from extra support the most.
Maybe I saw myself in Britney before I even realized it. I was drawn to her. She was shy but really sweet. She habitually pushed me away with an "I'm fine" when I asked her if she needed any help. So I'd let her be, leave her alone for a bit, and then come back to check in again. Then I noticed something: small, faint pencil marks on the margins of her paper. Faint enough to erase the evidence that they'd ever been there and hide from the teacher that she'd written out the marks to count five and five and five until she got to fifteen and found the answer to 5 x 3. I realized that Britany didn't know her multiplication tables.
I instantly knew two things – 1. As a 9th grader, Britney should definitely have her multiplication tables memorized, and 2. Britany was an intelligent and innovative girl. See, I, too, did not have my multiplication tables memorized as a 9th-grader, and I resorted to making and erasing faint pencil marks to discreetly solve math problems without the embarrassment of admitting what I didn't know.
It was freaky. I felt like a 22-year-old woman looking through a mirror at 9th grade me. Even disposition-wise, I was similarly withdrawn and scared of admitting I needed help when I was Britney's age. Britney was struggling with the same things I struggled with, using the same kind of coping mechanisms. I was instantly transported back to my own high school experience – remembering feeling like I couldn't use those tricks because it wasn't what I was supposed to do and that needing tricks like that made me bad at math, less high achieving than my peers. I remembered the shame I felt as I erased my pencil marks, determined to hide the gaps in my knowledge, and I knew Britney erased them too because, just like me, she had internalized that needing them was a bad thing.
Remembering how overwhelmed I felt when I was a student, not knowing what I was doing or how to ask for help– that's what got me to school to work with my students every day at 7 a.m., and that's what kept me there not just for one year, but four. I grew to care deeply about Britney and Gabino and the dozens of other students who let me into their lives and let me get to know them. I wanted to provide them with something I hadn't had but desperately needed when I was their age – a safe adult who let them know that it's okay to do things differently, that they're smart and worthy of support, even if their needs looked different, and that what they thought and they way they felt mattered and had value.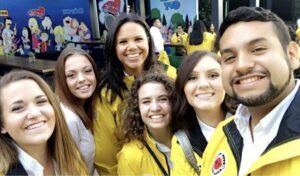 In my four years at the school, I watched my students grow from freshmen to seniors, and I started to see how City Year works: kids were growing and changing, and it was spectacular to see. At the same time, I saw myself growing, too. I moved from assisting teachers and students in the classroom to managing a team of City Year corps members and then to managing five teams of corps members at five different schools. I realized that City Year works for kids, but it also worked for me as a young person. I felt more confident. I was growing as a leader.
All in all, I spent six years serving in schools with City Year. I know I didn't change the world in that time. I know educational inequity persists today. But I also know that Britney stopped being afraid to raise her hand in math class and that I supported dozens of students in making life-changing discoveries about themselves and growing into people they were proud of. I watched students who were antagonists turn into peer mediators, students who were afraid to have their voices heard turn into student council members, and students who never thought they'd walk the graduation stage do so with overwhelming pride.
It's been a year and a half since I left City Year to become Director of Partnerships at 9 Dots, an LA-based non-profit that teaches computer science to elementary schoolers at the same types of under-resourced schools. And I know that I would not be the person I am today if it weren't for my City Years. They changed me as a person. I'm more compassionate. Kinder. More in tune with the fact that everyone has their own experience, and we are all just trying to get through our days in different ways. And more hopeful for the future.
Tonight, some of the AmeriCorps Members serving in 19 schools across LA this year are here with us in the yellow jackets. And even though they have to be in their classrooms tomorrow at 7 a.m., they are here tonight. They are here because YOU are here. And because together, all of us can be a part of making school a little easier for students like Britney."
Inspired by Erin's story? Share the opportunity of a year of service with someone you know. Click here to make a meaningful difference today.