City Year Kansas City is Super Bowl LVI Bound
Sunday, Feb. 13, SoFi Stadium will be packed and full of excitement with Super Bowl LVI underway. Attending the Super Bowl is a dream for many. For two City Year AmeriCorps members, that dream is about to become a reality.
City Year Kansas City Team Sponsor, the Hunt Family Foundation and Kansas City Chiefs, generously donated two Super Bowl LVI tickets and expenses-paid travel and accommodations to be raffled for an AmeriCorps member, also known as a Student Success Coach, who is giving a year of service inside Kansas City public schools.
Isabel Diaz, a second year AmeriCorps member serving on the CommunityAmerica Credit Union team at Northeast Middle School, was the lucky winner of the drawing. She was surprised with the news at our 2021 holiday party, where KC Wolf helped deliver the exciting announcement.
The following Sunday, she was recognized at Arrowhead Stadium as the First Pass Honoree where she was presented with the Super Bowl tickets on GEHA Field by Kansas City Chiefs CEO Clark Hunt in front of thousands of her fellow Chiefs fans.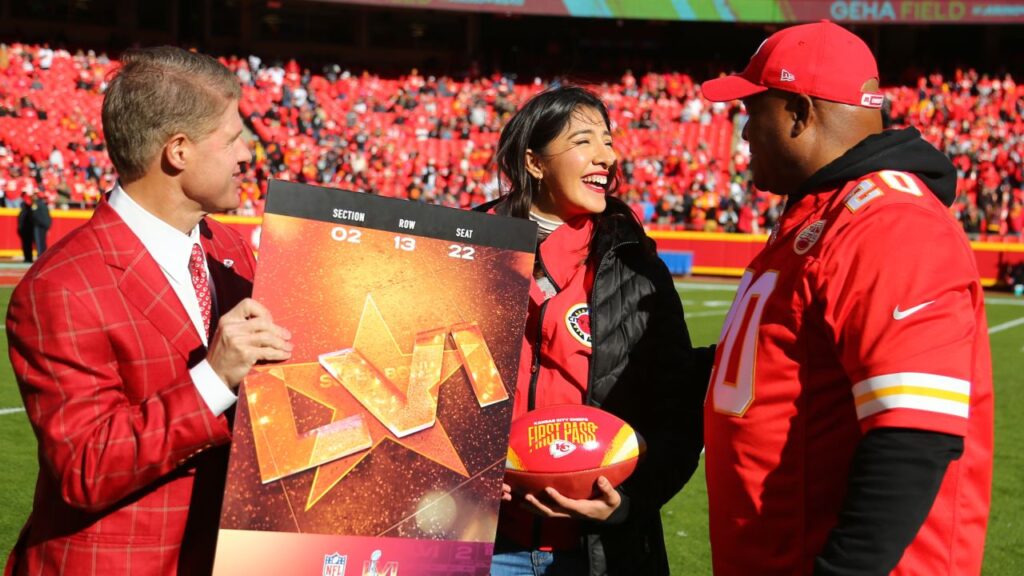 Isabel is a Kansas City native, and joined City Year to give back to the community she grew up in. She serves in a 7th grade classroom and provides targeted interventions to students in attendance, behavior, and course performance. Isabel is taking fellow AmeriCorps member and friend, Maria Torres, with her to L.A. this February.
City Year Kansas City serves over 4,000 students across 7 schools by placing teams of AmeriCorps members to provide one-on-one tutoring, mentorship, and classroom support. City Year intentionally serves in systemically-under resourced schools, deploying diverse mentors and tutors to keep students on-track towards graduation. "Our work would not be possible without the investment and dedication from our community and organizations like the Hunt Family Foundation and Kansas City Chiefs. The Chiefs have partnered with City Year since 2016, and they've continued to go above and beyond in their support of our students and AmeriCorps members," says City Year Development Director, Katie Roby.