Jacksonville students need mentors like you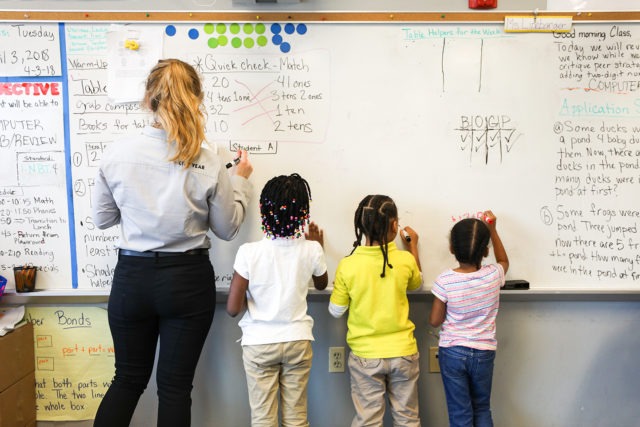 Serving in Jacksonville
Jacksonville, the River City by the Sea, has so much to offer – an exciting arts and culture scene, diverse foods options, picturesque beaches and so much more!
Beyond the nearly year-round Florida sunshine and beautiful coastline, young adults who join AmeriCorps have the privilege of making a difference in the lives of Jacksonville's students by serving with City Year Jacksonville. Though giving a year of service will undoubtedly be challenging at times, you'll find that it is equally rewarding. You'll have the opportunity to make a difference in school climate, support teachers, and help students reach their full potential—all while developing new skills that can help you in your future career.
Take a look at some insight and advice offered by currently serving City Year Jacksonville AmeriCorps members and staff members and learn how to get the most out of your year of service.
Prepare for challenges, joy and professional development
"When you join City Year they tell you how challenging the work can be, but you still don't really know what to expect. There are good days, there are bad days, and there are really bad days, but all it takes is that one inspiring student and my team to turn a challenging day into a great one," says Javon Cohen, currently serving at William M. Raines High School.
"My students and my team are the joy of my life here in Jacksonville. This year has sent me on a trajectory of serving in education and I will continue to pursue my passion by completing my master's degree in Education Management after my City Year."
Self-care is important when giving a year of service
"Self-care is always emphasized working at City Year and I have now grown to understand the importance of taking care of myself. While each day is a joy, parts of the day are not always easy and this started to take a toll on me. So, I found a way to refresh myself and gain more perspective into what I needed to do to make myself happy and healthy," says Miracle Green, AmeriCorps member at North Shore Elementary School.
"I read an article outlining a 20-day guide, including specific tasks to be completed, to promote mental wellness. The tasks ranged from buying myself flowers, to doing something you've been putting off. So not only did I get myself some pretty lilies, I also made the conscious decision to make my happiness a priority. My 20 Day Mental Wellness Challenge helped me more than I thought it would and having my entire team supporting me made my completion so much more meaningful."
You'll be supported by a dedicated staff
"I appreciate our AmeriCorps members for their passionate commitment to the mission of City Year! They work physically and mentally taxing long hours, yet they invest day after day in the lives of these students entrusted to them. Our AmeriCorps Members see their role as more than just a job," says Jaime, City Year Jacksonville's Learning and Development Manager.
"I value how committed our AmeriCorps members are to witnessing their students' realities, being bold advocates by raising up voices on their behalf and loving students from the depths of their hearts. It is inspiring to see and hear them stand tall for children with so much courage," says James, City Year Jacksonville's Managing Director of Impact.
Want to learn more about how you can make an impact in the lives of Jacksonville students?