Red Jacket Ceremony at City Year Detroit
On October 28, 2023, City Year Detroit AmeriCorps members participated in a Red Jacket Ceremony. My name is Mary Kate Rae and I proudly serve at Mary McLeod Bethune Elementary-Middle School on the west side of Detroit. I work with 4th graders to improve ELA skills and provide whole classroom support when I am not doing pull-out interventions. Our Red Jacket Ceremony was a special time to receive our iconic red jackets. We then dedicated them to a student, mentor, or another important figure in our lives.
These special people have made an important impact on us. An impact that led us to that precise moment of dedicating our jackets to a cause greater than ourselves. Serving a cause greater than ourselves is one of City Year's core values and it is a value that keeps us going when we have a tough day at school. It is also what makes being a City Year AmeriCorps member so rewarding, seeing student progress and feeling loved and appreciated by students daily.
I dedicated my red jacket to Ms. Shannon Fitzgerald, my high school French teacher. Ms. Fitzgerald gave me the space to pursue a passion and start growing to become a responsible, caring adult as a high school senior. Ms. Fitzgerald was one of my favorite teachers in high school and she was immensely supportive of me as I navigated becoming a younger version of who I am today, a leader, and a teacher.
When I founded and led a French Club, Ms. Fitzgerald served as our club's faculty mentor. Ms. Fitzgerald gave us her time, guidance, and space in her classroom. Her laid-back and trusting approach empowered me to be a better leader, a better French speaker, and a better person. It was during my time in Ms.Fitzgerald's classroom that I learned to remain calm and grateful through trying times, gained a love for laughter and fun, and an appreciation for new knowledge and ideas.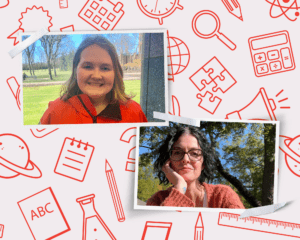 These lessons are what make me who I am today. It's these attributes, nurtured by my teacher and friend Ms. Fitzgerald, among others that make me able and happy to serve at Bethune. I will never forget all that Ms. Fitzgerald has done for me and I serve so that I can be like Ms. Fitzgerald for the students I work with. I hope to help educate and empower the students I serve during my gap year and hereafter once I am credentialed as a school counselor, to nourish the gifts of the wonderful young people in my local community.
I have the privilege of being let into these beautiful and talented students' lives. City Year Detroit's Red Jacket Ceremony was a lovely opportunity to remember and celebrate why and who I serve.
Mary Kate Rae
AmeriCorps member
Bethune Elementary-Middle School