Hour of Code At City Year Detroit
Why isn't my phone charging? Why isn't my vacuum cleaner working, or how can I get my computer to do what I want it to? How do I use all the bells and whistles on today's devices? Shiny cases, large warning labels, and a technical language barrier scare a lot of everyday users away from trying to understand the basics about how technology works in their lives. The words "Tech Education" and "Technical Proficiency" are overly broad, possibly intimidating statements. However, most people's interest lies somewhere in the middle. 
Every contributing member of society needs some technical proficiency, and everyone personally benefits from learning more about how their devices work. Whether it comes from something practical like understanding which Internet package to buy, helping a child with increasingly online homework, figuring out why Wi-Fi does not work, or from something more involved like replacing computer parts, everyone needs some sort of technical fluency.  
Not being intimidated by the hardware, or the physical parts, is just one aspect of technical fluency. Learning how to troubleshoot a printer or look up an error code online, for example, can save headaches and a significant amount of money. Information literacy, effective use of browsers' search mechanisms, understanding social media's confirmation bias algorithm, and observing false media propagation are important tools to put in the hands of new minds looking to develop themselves. Students get an introduction to some of the above in a computer class offered by Durfee Elementary from early elementary school through 8th grade. 
Our computer teacher, Ms. Wesley, goes far beyond just teaching about computers in her class. When she teaches students how to use tools like PowerPoint, for example, she also educates them on their potential. She goes a step further and introduces how this tool can be applied to post-secondary education at historically black colleges and universities as well as options for paying for college as DPSCD (Detroit Public Schools Community District) students. She introduces younger kids to typing using home row keys and all their fingers, and operational logic using coding games. Over the course of their years with her, she exposes them to audio programs, video-making, more coding, etc. Ms. Wesley focuses on bringing relevancy from their personal lives, passions, communities, and social justice to garner interest in her lessons and what technology can do for her students. Some of it, is hands-on in her classroom, while other content is based off the media interests the students have. She develops the curriculum based on what is available to her and what is valuable to her students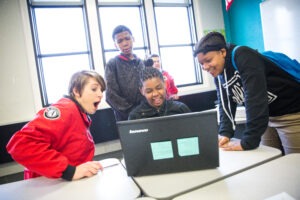 One effort we made to introduce students to technology is called an Hour of Code. The Hour of Code is exactly what it sounds like– one hour for students to be introduced to coding using engaging, guided courses based on their grade level. For my third graders, it was playing a game using directions to guide a space dog through a series of mazes. For some eighth graders, it was an introduction to Python, a popular and powerful programming language, by building a game where they can shoot basketballs into hoops. In both cases, we received positive feedback from the students saying they liked what they were doing and enjoyed learning.  
Programs like Hour of Code only cover a fraction of the need for education regarding "technology proficiency" at Durfee. Despite the positive experiences, there is nowhere for most of these students to go with this. The Hour of Code is only one hour long, and students only have Ms. Wesley's class one hour per week. Students have the freedom to pursue their education further, but they are not provided with the mental tools, physical tools, or the guidance they need to make a reasonable effort at furthering their education. There are still pieces missing. In general, most schools need more tech ed due to the increasing necessity for technical proficiency in our daily lives, but at least Hour of Code is a start.