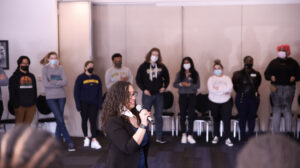 How do we find our passion and purpose? Rebecca Irby from New Detroit has some ideas on this topic. She calls this her North Star, and during our Spring Summit Learning and Development Week she joined City Year Detroit for a unique workshop called "Find Your North Star – Heart Centered Leadership- The Way Forward Together."
During the workshop, Rebecca explored what Heart Centered Leadership is all about, through several interactive activities. The staff and corps at City Year Detroit came prepared to move and connect deeply with ourselves and others. The concept of your North Star is quite simple—once you find your passion/purpose you can harness that knowledge and use it to filter your decisions.
When opportunities arise and you may find it difficult to decide- use your North Star to help make a judgement call. Ask yourself, does this opportunity help me reach my goal? Yes? Then it is an opportunity worth exploring. If the answer is no, do not waste energy considering it. This simple method can calm anxiety when it comes to big life-changing opportunities or simply figuring out what to order on the menu. Making this mind shift offers you the tools you need to make the best decisions for yourself and those around you.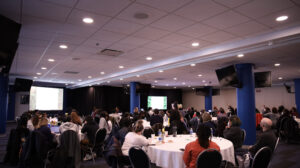 Jessica Stowers, Managing Director of Impact at City Year Detroit says, "Rebecca brings firsthand experiences from her life to each training. Her personal stories are really inspiring to our corps members, and they build on the City Year training the corps members participate in throughout the year- but in a more personal way."
The workshop taught attendees how subtle shifts in our mindset can lead to significant transformation. It also encouraged attendees to think about the here and now- weighing options as they arise. You may never know what is coming around the bend, and where you may find your next passion.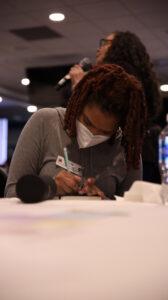 During this inspirational session, Irby explored what Equitable, heart-centered Leadership is through several interactive activities. She challenged participants to tap into and discuss the concepts of Interconnectivity – Empathy – Compassion – Revolutionary Love. This led to some insightful conversations among attendees. Kai Page, Impact Manager had this to say: "Building equity is important because it creates spaces for equal opportunity for diverse groups of people. Equity is at the center of a healthy workplace environment. We build equity at CYD by routinely re-evaluating our equity practices, empowering our staff and ACMs, and allocating space for voices to be not only heard, but deeply considered."