Giving Thanks on #GivingTuesday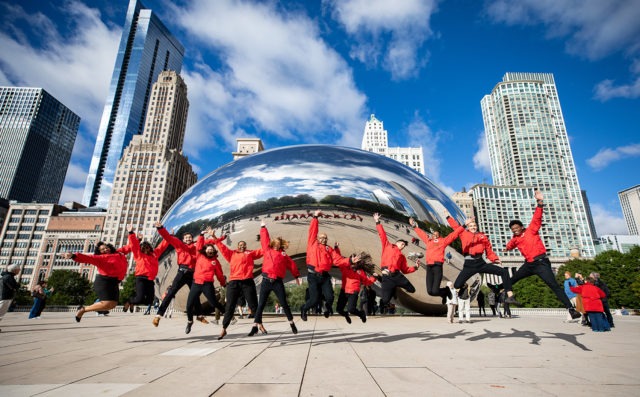 Each and every morning our alarms sound somewhere between 5 AM and 6 AM. We shuffle out of bed, with the moon often still high in the sky, and head out towards Englewood for another crazy packed day at the John Hope College Prep High School or JHCP. We are the first to arrive and usually the last to leave the building. Our days are long, and the work is hard. However, the incredible and talented students we serve make it all worth it at the end of the day.
In the spirit of the Thanksgiving Holiday, the eight of us who comprise the team took a moment to reflect on why we are thankful for serving at John Hope in the Englewood community. At the top of our list were the students; the obvious reason we are thankful for serving at JHCP. Not a day goes by without a student putting a smile on our faces or having us burst into laughter. We witness their joy during lunch, when they break out into dance once music comes on the loud speaker; they remind us of the importance of play within the school setting. Additionally, working side by side with our students, who share such diverse backgrounds and perspectives, has granted us a deeper appreciation and knowledge about the Englewood community. Their brilliance and potential reminds us of how lucky we are to have the opportunity to work with young people.
Additionally, we reflected on many things to be thankful for within the community of Englewood itself. We are thankful for the incredible partner programs that also serve students here at JHCP, like Becoming A Man, and Louder Than A Bomb, whose sessions with our students are something many look forward to at school. These partner programs, as well as businesses in the community, have lent us and JHCP tremendous support and we would not be as strong without them. Often times we realize that the media presents Englewood in a skewed way usually focusing on the negative. However, we have felt tremendous love and support within this community. We could not be more thankful and honored to serve here.
As November comes to a close, remind yourself to pause for a moment, look around, and recognize and appreciate all the things in your life that you are thankful for.
This post was written by Isabel Boyce, a City Year AmeriCorps member serving at John Hope College Prep High School in the Englewood community. If you are inspired to support the service of City Year Chicago AmeriCorps members on #GivingTuesday, please consider making a donation to our service in Chicago schools.