CSX Santa Train (Jacksonville, FL) 2019
ALL ABOARD THE SANTA TRAIN!
Team Care Force (TCF) traveled to Jacksonville, FL this past November to assist our team sponsor CSX with their annual Santa Train packing party. The Santa Train goes on a 12-stop journey through Appalachia delivering toys, food, and school supplies to the families that live along the CSX route from Shelby, KY to Kingsport, TN. Weeks before the Santa Train departs, volunteers fill backpacks with toys, clothes, and school supplies preparing them to be distributed at each stop, along with coats and other assorted items in Jacksonville, Florida. Before leaving for this event, I decided I wanted to record the whole trip and create a short movie from the time we left HQ until we returned to Boston in order to show people what a Care Force pack and sort event looks like from start to finish. Explaining TCF's role isn't always easy; sometimes it's better to show than tell.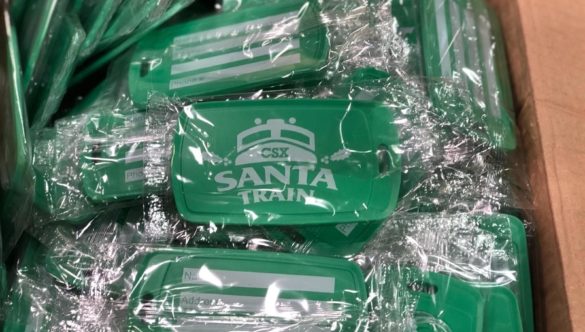 After landing in Jacksonville, my team and I picked up the rental car, ate, and made our way to the hotel. We were staying at the Marriott Jacksonville with a lounge that served a great breakfast. My team and I only had one day to get ready for the event, and that meant we had a lot of work ahead of us. Luckily, the City Year Jacksonville CSX sponsored team serving at Northwestern Middle School was able to offer some much appreciated support during the event. It was great to meet them and work on this event together. After first circle, we started our day by ensuring the layout of the room was correct. Sixteen rows of tables were set up where the backpacks would be filled for the children at each stop. There were eight rows for girl and boy backpacks with age ranges from infants to older kids. We also used tables to create stations for toys that would go into bins to be handed out at each stop and for the coats to be organized. Once we were finished arranging the space, we started unloading the supplies from the semi-trucks in the loading bay. There were coats, toys, school supplies, and backpacks to be inventoried and sent to the correct tables. We spent the rest of the day sorting items by gender and age and making sure that the assembly lines were organized correctly so the volunteers could easily fill the backpacks. No one had anticipated how long it was going to take to unbox and organize all the supplies; prep took us so long that we had to eat dinner on site. The last backpack was unpacked around 10:00 PM, and we were finally able to head back to the hotel.
Earlier in the week, Ted Marquis, Vice President, Director of Care Force, shared a Santa Train tradition; when someone yells "SANTA TRAIN," everyone in the room is supposed to enthusiastically echo back, "SANTA TRAIN." This call and response was a great technique to break the ice with my volunteers. It was the morning of event day, and the team was getting everyone fired up for our event. Volunteers started filling the backpacks, and as bags from all the age ranges were completed, they were taken to two stations: my station and Mas's station. Mas's volunteers were packing the completed backpacks into gaylords- large corrugated cardboard boxes. Each gaylord was assigned to a stop, and that's where the backpacks would be handed out. My station was packing smaller cardboard boxes which would be left behind at each stop to ensure that families that did not receive anything off the train could still get a backpack. With completed backpacks coming in fast, my volunteers started packing the boxes for transport to the train. After my team completed their project, all the volunteers were redeployed to assist Mas and his team. Everything was then loaded onto the waiting semi-trucks to be delivered to the actual Santa train in CSX's rail yard. TCF and a few volunteers transferred all the boxes onto the train, so when Santa Train started its journey through the Appalachian Mountain, all the gifts would be set up and ready. At one point while packing the train, a pile of boxes tipped over and was about to come crashing down on me when Ted jumped into action. Next thing I knew, it was raining chips! In his rush to help, Ted had thrown the chips he was eating to free his hands to grab the boxes.
As we loaded the last box onto the train, Ted called out one final "SANTA TRAIN!" to celebrate an event well done. The event was all wrapped up, and it was time to return to Boston. However, I still had some work ahead of me. It was time to combine all the footage I had recorded into one video that would summarize an event week for TCF. Click here to check it out and see firsthand what our Santa Train packing event experience was like. This event was a fun way to start off the holiday season and gave us the opportunity to work with CSX again, whom I really enjoy working with and learning from.