Aramark Ring of Stars (Phoenix, AZ) 2019
We arrived in Phoenix in mid-October exhausted but well-trained after six weeks of back-to-back events. Our "event marathon" had taken its toll on us. Gratefully, this event turned out to be a relaxing change of pace as it was a less physically demanding event than those of the previous weeks. We were there to help Aramark with their Ring of Stars event, an exclusive celebration of front line employees who have been identified as going above and beyond.  These Aramark employees from all over the world had gathered in Phoenix to be recognized for their exceptional performance and were able to spend their time relaxing, engaging in professional development, and volunteering at our event. Together, they packed 1,000 kits filled with hygiene items like deodorant, combs, towels, shampoo, and conditioner for the Justa Center, a local non-profit that supports individuals experiencing homelessness.
To make sure the event ran smoothly we unpacked, sorted, and organized each item according to the amount needed for each kit. The day before the event, we spent about five hours preparing the packing stations, putting up signs, and breaking down boxes. As our prep day was shorter than most, we had plenty of time to explore the city. We decided to go to Dobbins Overlook, a 40-minute drive on a winding road up a mountain just outside Phoenix. We arrived shortly after sunset at the stone building where others had already gathered and got to see the entirety of Phoenix's cityscape. It was a beautiful sight, and one of our favorite experiences while we were in the city.
We came into event day confident that everything would run smoothly as it was organized to the best of our ability. After starting the event with a group of about 75 Aramark employees, we led the volunteers to the location where the kits were being created and divided them up evenly across seven stations. We had projected that packing would take 45 minutes, but the volunteers moved so rapidly that they were finished packing 1,000 kits in about 20 minutes. Because of this, we had the opportunity to talk with some volunteers who were excited to be part of the event and were curious about Care Force and City Year as a whole.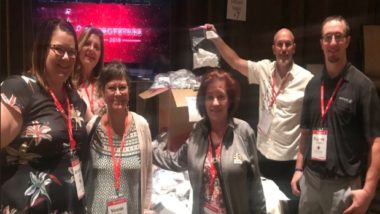 While this event was atypical in a few ways it still presented another opportunity for us positively impact others. We were extremely grateful to support the Justa Center's mission of alleviating homelessness in the Phoenix area. This was also another chance to get to work with Sam Sadlier, Senior Project Manager, whom we see less often as she is based in Chicago. The excitement of the volunteers participating in the event was invigorating, even as we looked forward to a winter back in Boston. We'll look back on this experience fondly because it reminded us of the impact our work has on so many people.