Greater Boston Training Academy: Starting the Year Strong
At City Year Greater Boston, we start every new year with an intensive training and preparation program called Greater Boston Training Academy (GBTA).
Greater Boston Training Academy is four weeks of training focused on preparing AmeriCorps members to serve communities, schools, and students across Boston and Everett. This year is extra exciting because it is our first year holding training back in-person since the start of the COVID-19 pandemic.
While AmeriCorps members still served in schools last year, we did our learning virtually. So, after two long years, we are excited to once again build community in-person together. Building community is a big focus of GBTA this year. We want to rebuild a community of care and connectedness–something that was tough to cultivate virtually.
Particular attention is being paid to sharing our individual stories and how those stories serve us and our ability to form collaborative, high-functioning teams, ready to serve in communities and schools.  
I've been with City Year for over 12 years and have attended Greater Boston Training Academy each year. This year, leading the program is an opportunity I am really looking forward to.
As a former AmeriCorps member and long-time City Year staff member, the City Year community is important to me, and I think that GBTA is the bedrock that allows our AmeriCorps members to do the hard work that is: full-time service.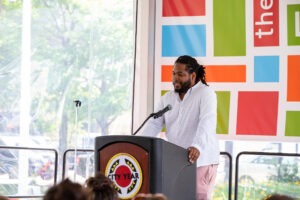 Finding balance in terms of building community for this current generation and still leaning into the traditional things that make City Year special is an exciting challenge for me.
From tried-and-true sessions like "Leadership Compass," which helps AmeriCorps members begin to understand their personal leadership style to newer sessions, like "Cultivating Groundedness and Clarity," aimed at finding ways to stay present and in the moment when the work gets tough.
We are finding ways to mix the old and new into this year's programming, preparing AmeriCorps members to provide academic and social-emotional support to the students we serve. About a quarter of GBTA sessions are focused on in-class support. We see these four weeks of training as the launching point for continued learning and skill building over the course of the year, including leaning in with educational experts who guide sessions for AmeriCorps members.   
Greater Boston Training Academy is the kickoff to the service year, and it helps AmeriCorps members understand what their service year will look like. It's a chance to get to know their peers and support systems, as well as for us as a City Year community to look toward the past for guidance while blazing a new path forward.  
 I am excited to be a part of it and ready to start this year strong! 
 Support Greater Boston students this Fall as an individual or explore sponsorship opportunities on behalf of your organization this school year.
Learn more here.