6 Black-Owned Restaurants We Love in Boston
Kimmy Lee is a charismatic connector on the City Boston People Team – the department that supports human resources for our staff and AmeriCorps members. Over the summer, during Basic Training Academy for our incoming AmeriCorps members, the entire CYB community leaves our hub in Back Bay to gather at partner school locations.  
It can be challenging to know what your options are come lunchtime, so Kimmy took it upon herself to create her own helpful list of food places in the area. Her restaurant lists, lovingly nicknamed "Kelp," for Kimmy's Yelp, sort places to eat by distance and included descriptions of top food choices. "I literally wake up and think about what I'm going to eat for lunch," Kimmy says about her passion for food.  
The corps and staff are grateful to have the guidance of our resident foodie and asked her, in honor of Black history month, to round up a "Kelp" of her favorite Black-owned restaurants in the city of Boston.  
"I took the opportunity to continue my own learning and highlight great local Black-owned and run restaurants in the city. These are a few of my top choices in the Boston area, but of course, it doesn't encompass all the great Black-owned and run restaurants in the city of Boston. See more on this list or use the EatOkra App! I urge you to visit all the ones you know of this month to learn more about their history and enjoy their yummy cuisine. Also, I encourage you to research and lookup notable Black servant leaders and community members that have called Boston home." 

Dorchester
Wingz and Tingz



388 Blue Hill Ave.
Boston, MA 02121
"Farm Raised Chicken. Fresh Organic Wingz." 
The place that will satisfy your chicken craving and potentially overwhelm you! This place has so many flavors (10 sweet, 10 spicy, 10 dry rub, 31 special flavors totaling over 61 different flavors, to be exact). Come in during the weekday for the Monday-Friday Walk-In Specials – 4 wingz + fries for $4.99 (before 5pm) or 6 wingz + fries for $12.99 (before 8pm). I suggest the sweet chili (sweet flavor), tangy BBQ (spicy flavor), lemon pepper (dry rub flavor), or Hello New World (a special flavor consisting of Honey, BBQ, & Lemon Pepper).
Hyde Park
ZaZ Restaurant



1238 River Street
Boston, MA 02136
"Offers the finest blend of fusion and contemporary cuisine in Boston." 
Look no further than Zaz to get your fill of breakfast, lunch, dinner, or dessert. Whether it be Cajun shrimp mac & cheese, vegetarian sliders (vegan), chicken & waffles, or jerk chicken, come to Zaz to satisfy your taste buds.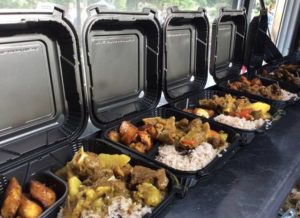 Jamaica Plain 
Jamaica Mi Hungry



225 Centre Street
Jamaica Plain, MA 02131
"We are driven to bring the beach to you! Not only the undeniable taste of Jamaica, but true island vie and hospitality!" 
Stop by the first Boston Brick and Mortar storefront in JP or be on the lookout for the food truck in Kendall Square. Get the namesake (Jamaica Mi Hungry – the beef patty with coco bread) or multiple items for a quick snack or lunch!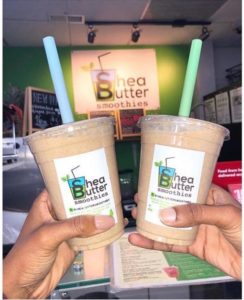 Mattapan 
"New Year New Me!" you can say as you get one of these delicious smoothies (not only is it delicious but it's also an excellent source of fruits and vegetables). Skim through the menu and you'll see some creative names or references to celebrities ("juju on that beat", "big Ang", or "bad and boujee").
Roxbury 
"Eat, Drink, and Speak easy" 
Known for serving some of Boston's Best wings since 1935. Eat in the same place that Dr. Martin Luther King Jr, Muhammad Ali, and Bill Russell once visited. Huge portions (catfish sandwich or the fried chicken wing dinner) made with love.
South End 
You'll travel to Ethiopia with one bite of this food. Lucy's has so many options – the only problem you'll have here is narrowing down what to pick. They have vegetarian food (yellow combo), combo plates, meat plates (Lega Tibs, Miser Beiga) – there is so much flavor coming out of this restaurant.