Reflections on Motherhood & Working From Home
When the pandemic hit, our AmeriCorps members weren't the only ones who shifted to working remotely. City Year Boston's nearly 80+ employees also quickly shifted to working remotely and have been doing so for nearly 11 months.   
Between juggling work schedules and meetings with my partner and the guilt associated with feeling like you weren't providing enough structure or activities for your kid – it certainly wasn't easy. – Amanda Marsden, Communications & Marketing Director
The transition from working in an office to working remotely is a complex one that brings unique opportunities and challenges. The same can be said for the transition from City Year's in-person events to virtual events.  
At our recent Womxn's Leadership Breakfast, Sandhya and Swara Douglas, a mother-daughter duo, spoke about the impact that the pandemic has had on their personal and professional lives. Sandhya also reflected on how the pandemic affected her family and focused on some of the opportunities that resulted from spending more time together. The pandemic has certainly impacted mothers – both those who work outside and inside the home. We spoke with some of City Year Boston's mothers who shared their takeaways from being home full–time with their child(ren) and juggling work. 
City Year Boston: What is the best part of working from home full time with your child? 
Jana Magnus, Senior Director of Development Operations: The best part of working from home has been watching my 2-year-old son, Noah, grow up. Prior to the pandemic, I would leave for work before he woke up and was home about an hour before he went to bed. Being home full time now has allowed me to watch him grow and reach milestones that I would have missed being in the office. There are challenges with being home full time. It has been hard to balance meetings and making sure Noah is doing something that is engaging and fun and allows him to learn new skills. We have the flexibility at CYB to adjust our hours to suit our family needs so I've taken some mornings off and done some work in the evenings after Noah goes to bed.  
CYB: What have the challenges and/or opportunities been for you? 
Angela Stokes, Impact Manager: To give you a glimpse into our family situation, my husband quit his traditional office job in September to start his own business from home and help care for Luca and his 13-year-old who was entering 8th grade (remotely). Even though it's been challenging having a baby and an 8th grader learning remote, I'd love to focus on the opportunities and rewards of being home particularly with the baby. I didn't think I would ever be a stay-at-home parent and/or spend every day with my child the first year of their life. I have been most grateful to see Luca grow in the past year even while I work. I get to have lunch with him, play with him in between meetings, and now really start to understand what is going on in his little world. I have had the opportunity to witness his first steps, his first foods, his first sounds, everything that may not have been possible without these unfortunate circumstances. If we have another baby, I don't think it will be the same, so I never want to take this time for granted. Even though I'm tired of our small space, miss colleagues in the office, etc. I still feel really lucky to have this time with him. Anyway, I hope this offers something positive for the blog because I know there are a lot of challenges out there and I feel them! Gratitude is what's keeping me going (oh and lots of baby giggles!).  
CYB: What's been your biggest takeaway [from juggling your family's needs]?   
Kathleen Stern, Instructional Coach: I think of the quote, "There's no way to be a perfect mother and a million ways to be a good one." Even before the pandemic, this is a statement that rings true. I know that every mother is trying to do her best and that it can be dangerous to compare or use one measure of success for motherhood. I've been focusing on being a "good/goodish" mother. For me, this means trying to work against perfectionism, honoring multiple parts of my identity– motherhood being just one of them, and listening to my own children for feedback about what they need and how I can provide for them, rather than listening to strangers on social media.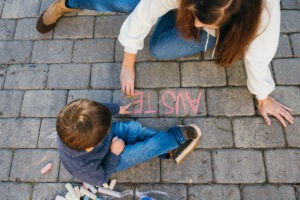 Amanda Marsden, Communications & Marketing Director: I keep trying to think back to the early stage of the pandemic when my spouse and I were both working full time from home while also caring for our toddler while daycares were closed, and I honestly don't know how we did it. Between juggling work schedules and meetings with my partner and the guilt associated with feeling like you weren't providing enough structure or activities for your kid – it certainly wasn't easy. However, I feel grateful for that time spent at home as a family because our bonds were strengthened, and I was able to witness so much growth in my kid that I don't know I would have otherwise seen without these circumstances. 
In the last year, I do believe I have grown as a parent because the circumstances have forced me to have more grace with myself as a mom. And while I still worry about the impact the pandemic will have on my kid's development, I do have new confidence in my ability to navigate if needed, because if I was able to not only get through this last year but actually grow in some ways.  
---
We are thankful for all our moms out there that are finding the balance of being a working mom and a working professional. We see all the hard work that goes into doing both jobs and we can't stress enough how much we appreciate you.  You can watch the Womxn's Leadership Breakfast conversation between mother-daughter duo Sandhya & Swara Douglas here.