Melissa Walsh, vice president of corporate responsibility & global philanthropy, AbbVie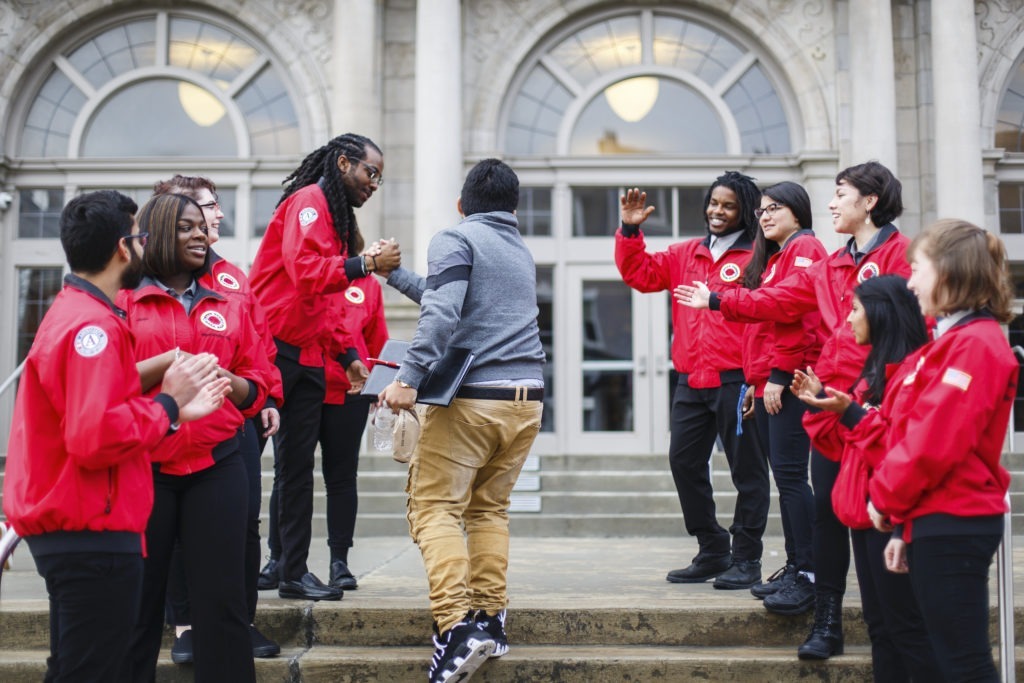 Melissa Walsh knows from experience that a supportive adult at school can change futures. When she was a teenager, a guidance counselor helped her realize she could make the right decisions, even when under pressure to make some wrong ones, and provided perspective and encouragement that kept her on track during a turbulent time. Years later, they're still in touch.
"A single person can truly have a transformative impact on a young person's life," Walsh says. "Certainly in those vulnerable years, that can be critical."
Now as she leads Corporate Responsibility & Global Philanthropy at AbbVie, an emphasis on building relationships also shapes the company's approach to partnerships with nonprofit organizations and its strategy to ensure more students have the resources and opportunities to achieve their dreams.
"The phrase, `It takes a village' is used quite a bit, but there's no stronger example of the truth in that phrase than in the context of education," Walsh says. "Education is a cornerstone to so much future success."
Building strong communities, effective educational programs and sustainable healthcare systems has been part of AbbVie's philanthropic mission since its founding in 2013. AbbVie's investment in City Year in 2018-2019 provided new curricula and training services for City Year AmeriCorps members at more than 68 schools and expanded City Year's math and literacy support to 45,000 students across the country.
Relationships at the core of our work
City Year works with schools in communities with limited access to quality education, housing, healthcare and recreation spaces—the harmful effects of systemic racism—creating obstacles for students who are eager to achieve.
Since AbbVie announced a $10 million, five-year commitment to City Year in late 2018, the company has helped to ensure more students have the supports necessary to stay on track throughout elementary, middle and high school, and graduate ready for college and careers.
"We deeply value AbbVie's partnership and dedication to helping every student reach their potential," says Chris Mann, vice president of corporate partnerships at City Year. "Relationships are at the core of what we do together to create resilient and responsive school communities that become springboards to student success."
Throughout the school year, City Year AmeriCorps members intentionally focus their time on getting to know students and letting students get to know them. Those efforts help to ground their relationship in trust and connection, which makes learning possible.
"Mentors that are part of the City Year model can build lasting relationships with young students that foster deeper connections over the long-term," Walsh says, "and those connections can help uncover what a student is interested in, what learning gaps might exist, and how to provide that extra support to fill those gaps."
Funding from AbbVie also has enabled City Year to expand afterschool programs in San José/Silicon Valley focused on science, technology, engineering, art and mathematics, or STEAM skills, which are sought after by employers.
"I have yet to hear a City Year corps member not highlighting the tremendous talent in each student and each child that they serve," says Dr. Hilaria Bauer, superintendent of Alum Rock Union School District in San José. "That enthusiasm towards finding the potential and the talent in each child all the time is what makes City Year so unique."
How STEAM opens doors
Opportunities to explore STEAM activities let students discover new concepts and better define their own interests, Walsh says.
"A really solid foundation in education, especially one in STEAM, can really be truly life changing for kids," Walsh says. "One size does not fit all. The child who is interested and excited about building a robot might not be the same kid who's interested in figuring out how to have drawn the design for that robot."
By weaving together academic, social and emotional supports into activities, AmeriCorps members encourage students to create their own toolkits for problem-solving. For example, an AmeriCorps member might help a student break a tough math problem into steps, and help him recognize that feelings of frustration may be a sign it's time to take break before returning to the task, rather than giving up.
"When a young person's social and emotional development are supported in real and meaningful ways, it can make all of the difference in the world," Walsh says.
As AbbVie looks ahead, ensuring students have strong support networks will be more important than ever to aid recovery from the pandemic, and to one day make educational equity a reality.
"We all really need to continue working together to effect real change for these students," she says. "Our partnership with City Year exemplifies that when the village is strong, amazing things can happen and are happening."
Our partnership with City Year exemplifies that when the village is strong, amazing things can happen and are happening.

Melissa Walsh Vice president of corporate responsibility & global philanthropy, AbbVie