Care Force provides quality volunteer experiences that become an integral part of our corporate partners' employee engagement initiatives. Our events inspire people to serve their communities again and again.
Care
F
orce offers the following
event
types:
Note: Although these are the standard event types that Care Force executes, we are able to customize events to meet your needs.
Community Based Events
We will work with you to design transformative physical service projects that meet community needs and provide a great volunteer experience. When it aligns, these events can also involve elements of skill-based volunteerism like food demonstrations and resume workshops. These events can take place just about anywhere in the world. Examples of these type of events are the following: School Transformation Events, Community Center Beautification, Community Garden Builds/Enhancements.
Virtual Events and Campaigns
Our virtual opportunities are designed to bring great volunteer opportunities to your participants, in an online environment. Events can involve mailing supplies to employees or zero touch, fully virtual activities. Employees can be engaged through a series of on-line events, or on-demand activities based on their own schedules. Examples of these type of opportunities are the following: Back to School Pouch or Teacher Appreciation Tote Creation, Mystery STEM Bag Challenge.
On-Site Service Opportunities
Care Force On-Site Service Opportunities are designed to engage your employees wherever they may be. Usually taking place at your office, meeting or conference location volunteers can be engaged in time specific events or take place in drop-by activities. Examples of these type of opportunities are the following: Little Free Library Construction and Decoration, Portable Mural Painting, Packing and Sorting Donation Items.
Multi-location
Having worked in ten countries and over 220 distinct communities, Care Force is designed to serve both where City Year has a site, and where City Year has no local presence. Care Force can run events on the same day in multiple markets or at different locations within the same city. Care Force has led many corporate volunteer initiatives, with events taking place in multiple countries on the same day, without any loss in mission focus or quality of participant experience.
Care Force event management details
Care Force Event Manager
A member of Care Force staff serves as the Care Force Event Manager. This Event Manager will lead your event and advise on all aspects of the volunteer engagement event experience.

Complete event management
Care Force will oversee all event operations and logistics; procure all tools and materials; prepare the service site; lead day-of event programming; and offer guidance on volunteer recruitment and other internal event-related initiatives.

Community outreach and site visits
A Care Force staff member will conduct in-person, in-market site visits to identify the appropriate organization(s) and location(s) for the event(s). These sites typically take place two to three months in advance of each event. The site visits ensure that we collect all the relevant information on potential community partners and project tasks before collaborating to select the right community partner for the event.

Relationship management
Care Force will handle all relationship management with community partners and stakeholders (schools, community centers, city departments etc.) involved with the event. This includes but is not limited to project task selection and prioritization, choosing event speakers, selecting paint colors, murals and construction items.
Care Force event team
This dedicated event team consists of Care Force staff, City Year AmeriCorps Members, and Care Force Reserves. This team arrives at the community partner days in advance of the event to conduct the necessary event prep work needed to maximize volunteer impact (i.e. sketching murals, sorting materials, cutting and kitting wood). Then on event day this team transitions to event leadership roles, mainly serving as Project Coordinators (PCs). Care Force events are broken down into individual projects consisting of sequenced tasks lead by these City Year PCs. On average, Care Force has a ratio of one PC for every 18 event volunteers.

Evaluation and reporting
After each Care Force event an After Action Report (AAR) is created that details the work completed and compiles volunteer survey results.
Here is an example of what an event timeline can look like: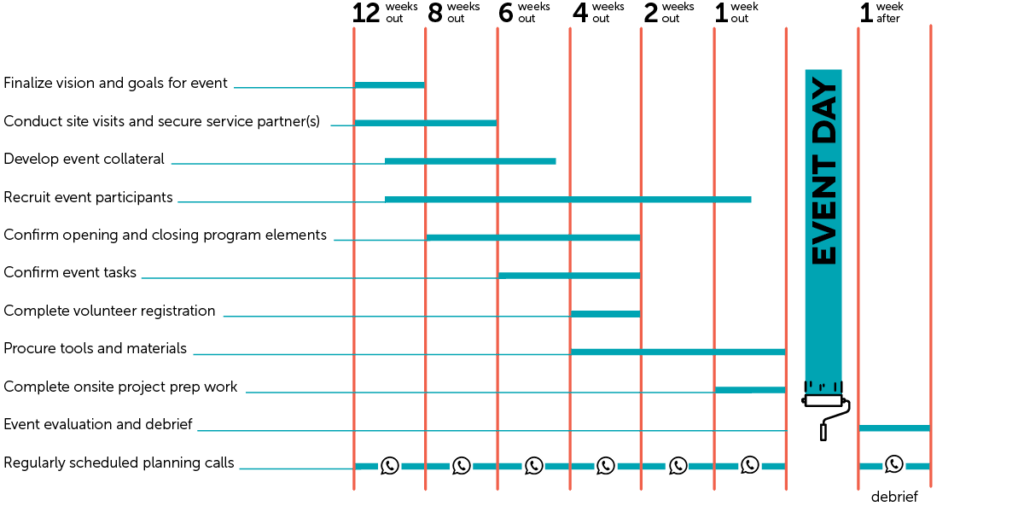 Care Force 1 and 2
Care Force 1 and 2 are 52' shipping containers donated by CSX that are stocked with hand and power tools as well as other event necessities. The resources in Care Force 1 and 2 increase our capacity to lead and ensure we are prepared for backup projects and inclement weather. Because we are subject to CSX shipping routes and schedules, we can never guarantee the containers will be delivered to a specific event.
The organization of people and materials provided were beyond expectations and could not have been possible without Care Force. Our school is so very fortunate to have benefitted by this partnership.

Michael Crowley Community Field Coordinator, Richard J. Murphy School