Make Tulsa Better. Get your Degree Free.
Shape the future of Tulsa
City Year is now hiring full year positions for the 2023-2024 school year!
Joining City Year is your opportunity to shape the future of Tulsa.
It's a way to build up the next generation and make our city a better place to live — for everyone — while also building your career.
Fill out the form and a member of our team will be in touch to discuss this opportunity.
What is City Year Tulsa?
We're a nonprofit program (through AmeriCorps) that invites people 18-25 to give a year of service to their community by volunteering with Tulsa Public Schools. Some people use this as a gap year between high school and college, after graduating before joining the workforce, or as a way to switch careers and try something new. Wherever you're at in life, there's no wrong time to serve with City Year.
With this short-term commitment, you can hone your career skills, gain valuable work experience, and make a difference that directly makes lives better for the next generation.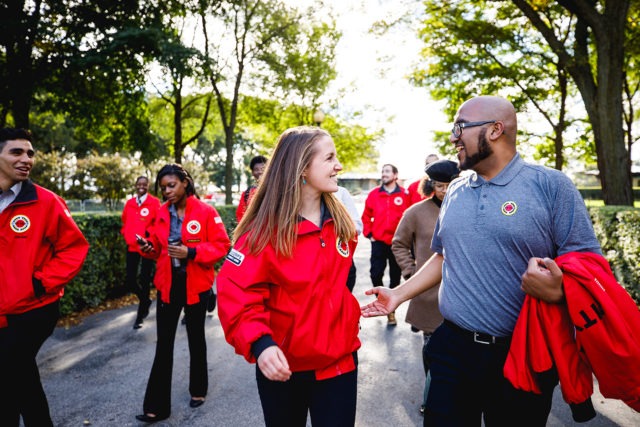 Say hello to cool benefits
When you join City Year Tulsa, you'll get great perks that make your service personally beneficial:
Biweekly stipend of $1,122 (pre-tax) in Tulsa

Site paid holidays off & paid personal days

Health, vision, and dental insurance

Localized benefits, including a free bus pass and free YMCA gym membership

Full scholarships and grants for undergrad, graduate and post-graduate degrees with local university partners like OSU, OU-Tulsa, and TCC after you finish your service.
What you'll do
Serving as a City Year AmeriCorps Member on a diverse team is a complex and challenging role with varied responsibilities, all designed to help students develop into all they can be and to help them build the social, emotional, and academic skills to achieve their goals:
Individual and group tutoring in math and literacy

Leading enriching afterschool programming

Fostering students' positive belief in themselves and their capabilities

Building positive, caring relationships with students

Working with educators to help create a welcoming school environment
See the benefits in your career and life goals
Take what you gain from your time with City Year into your future career and life plans:
Explore your passions in a new, vibrant environment that makes you grow.

Receive personalized career guidance and take time to decide your next steps while giving back to your community.

Build relationships with a network of like-minded people from all around the US.

Be a part of Tulsa's huge entrepreneurial spirit, and set yourself up for growth and learning that furthers your career plans.

Enjoy everything that makes Tulsa a great place to live — outdoor activities, great music, socially conscious shops, locally brewed beer and coffee, affordable living, and a commitment to growing diversity
Dive headfirst into making Tulsa better
Your year of service allows you to give back to Tulsa in an intentional, rewarding way.
Use your passion for building a better world by mentoring the next generation.

Bring your individual experience, views and skills to students who need you the most.

Live your values by helping to create greater opportunities for those who need it most.

Shape Tulsa's future and leave Tulsa better than you found it before you head off to college and beyond.
City Year alums love the experience
"I wanted a break from what I'll be doing for the rest of my life… City Year is a great opportunity to take that break while also being a professional development opportunity and keeping me in a really trying, demanding job."
Ryan Tierney
"City Year Tulsa has helped me combine my passions and skills into work I can leave the office every day proud of. And that is by far the best professional development I could have ever imagined when I put on that red jacket."
Allen Collins
"Day by day, everything is new. Every day is a new day, a new experience and I'm loving it."
Jessica Butay
"I will say this, service is really hard work. Making an impact in your community takes real commitment and that commitment is not for the faint of heart."
Elexsa Perello
Live out your values in a community you know and love — and want to see grow!
Here's how to get started.
Discover how you can make the world a better place, get paid doing it, learn marketable skills, and get a free college degree.