Meet our new Executive Director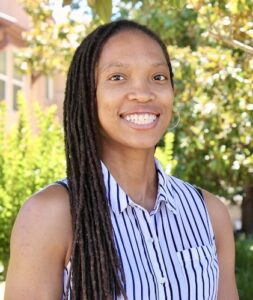 Dear champions and supporters of City Year Sacramento, 
I am excited and honored to begin a new chapter with City Year Sacramento as I formally step into the role of Senior Vice President and Executive Director. When I signed on for a year of service with City Year Sacramento as a founding AmeriCorps member in 2012, I never could have imagined this moment. This is an incredible opportunity to continue serving and working for an amazing organization committed to helping students and schools succeed by advancing educational equity, while preparing the next generation of civically engaged leaders who can work across lines of difference.  
As I step out of my role of leading the program and service work and transition into the role of Executive Director, one of my main priorities is to continue fostering meaningful collaborative relationships throughout the Sacramento region as we come together to support our most underserved and marginalized communities. For as long as I can remember, I've been passionate about our youth and have dedicated my personal and professional talents towards making a positive change in the lives of children and young adults. Working in partnership with Sacramento schools, our diverse teams of AmeriCorps members act as "student success coaches" providing direct academic and social emotional support to students while creating positive learning environments that will prepare students to graduate with the highest number of post-secondary opportunities. 
I'm so proud of all that we've accomplished in our first ten years. We've supported over 36,000 students across 9 school campuses, served over 1,000,000 hours, spent 70,000 hours providing small group and individualized tutoring supports, and 93% of our teachers agree that City Year AmeriCorps members help students feel a sense of belonging. We've hosted numerous school beautification projects, hosted school talent shows, been positive adult role models, and made a lasting impact on every student we've had the opportunity work with.  
With the support of the Advisory Board and our dedicated staff, I am eager to lead and guide City Year Sacramento through this exciting new chapter. We will remain an asset in our schools and community while sharing our expertise and proven approach to enhance the education landscape for every student in every neighborhood. I am confident with you by our side, City Year Sacramento will continue to thrive because when students rise, we all rise. I can't wait to see what the next ten years will bring! 
Thank you for your support and I look forward to working with you all! 
In Service, 
Macey Amissah-McKinney (CYSAC 13' 14')
Senior Vice President & Executive Director
City Year Sacramento