Our executive director and local leadership are committed to building a stronger Sacramento by supporting and developing our AmeriCorps members as leaders in their schools and community.
Macey Amissah-McKinney
Senior Vice President and Executive Director for City Year Sacramento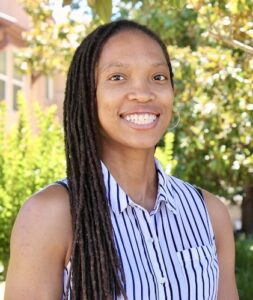 Macey Amissah-McKinney serves as the Senior Vice President and Executive Director of City Year Sacramento. Macey was first introduced to national service in college while serving as a tutor for high school youth in South Central Los Angeles as an AmeriCorps member with the Children, Youth, and Family Collaborative. After graduating from the University of Southern California, she relocated to Sacramento, CA to join City Year Sacramento as a founding corps member in 2012. After serving two years in the corps, Macey transitioned to the staff team as an Impact Manager, coaching and developing a team of 19 AmeriCorps members to deliver targeted intervention support and whole school initiatives focused on student engagement.
Since then, Macey has taken on several roles including Learning & Development Manager, AmeriCorps Compliance Manager, Impact Director, and most recently Managing Director of Impact. A natural strategist and leader, Macey has led the site's efforts in building an aligned and recursive experience for students, corps members, and staff leading to increased engagement, retention, and impact. Macey has also been instrumental in supporting other local non-profits interested in becoming AmeriCorps programs resulting in more AmeriCorps members being deployed throughout the Greater Sacramento area.
Macey is an extraordinary team builder and leader. Her ability to see her team and create conditions that give them the opportunity to serve in this work from a position of strength has had an extraordinary impact on the success of corps members at the site and our relationships with stakeholders.
In her new role, Macey will assume the responsibility of a $4.6 Million budget, lead a team of 13 staff members, and 86 AmeriCorps Members serving 6 in schools in partnership with Sacramento Unified School District.
More leaders in Sacramento