Build Literacy, Build Civic Leaders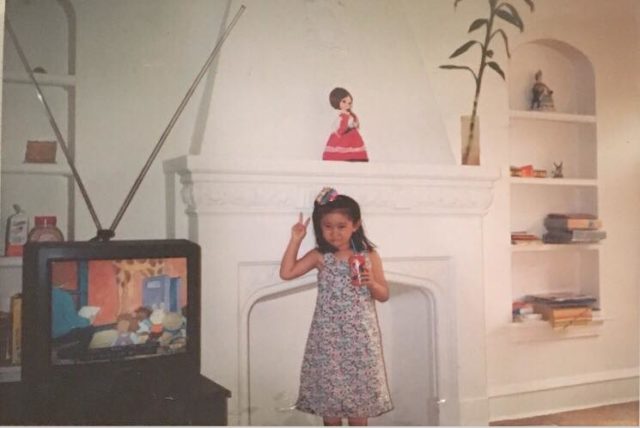 There's a picture of me in my mother's battered "First years in America" album where I'm sipping a Coke from a straw while the PBS Kids show Arthur plays on in the background with large subtitles. That picture will always be, to me, the perfect encapsulation of growing up and into Americanness. A big part of my growing-up story is how I learned English, and subsequently, how I learned to love reading.
I came to the United States with my parents when I was four years old, and before I even uttered a single word of English to my kindergarten peers halfway into the school year, I had to absorb a lot of words. I read subtitles on PBS Kids shows from 7 am to 5 pm, my mom's Longman English dictionary, baby books with fuzzy textures, books about giving trees and magic pebbles and caps for sale, and anything else that I could get my hands on. I read voraciously without realizing, until now, how extraordinary it felt to breathe life into written lines.
My first language is Cantonese, but the first language I learned to read was English. When I first began to sound out words and distill their meanings, the new connections I made began to shift my entire worldview. The more I read the more my world expanded; in reading, I felt empowered. To me, literacy will always be the most valuable gift for anyone who has ever felt small and voiceless, and that is why it is so important to me that I encourage my students to foster a love of reading.
One of my favorite things about being a City Year is that I get to impart my love of literacy to my students through lesson plans and class- and school-wide initiatives. English Language Arts (ELA) is one of four areas in City Year's Whole School, Whole Child model that we support so that our students are on track for success in high school. For ELA, City Year identifies students who are on the cusp of performing on grade level; AmeriCorps members then support these students through a combination of one-on-one interventions and small-group lessons.
Last year as a first-year AmeriCorps member, I pulled a focus group of six students for ELA lessons. At the beginning of the year, they were hesitant to read intimidating words and fast to skip over parts of writing that they did not understand. I was so proud of how much their confidence in reading grew by the end of the year. My students learned how to find meaning between the lines, write their own opinions and support them, empathize with characters in a book, and extract important values in stories to carry with them as they grow into young adults.
Such critical thinking skills are essential tools for students to grow up as civically engaged adults. An essential component of City Year's statement is to build democracy through citizen service. It therefore comes as no surprise that we celebrate National Literacy Month, as literacy is the cornerstone of American democracy. Every citizen in this country deserves to have the capabilities to fill out a form, read a newspaper, understand medical information, and navigate a society that is so heavily print-based. More urgently still, I believe it is the responsibility of our nation to not only equip children with the essentials of literacy but to instill an eagerness to read so that they can proficiently interpret information, make connections, and think bigger. As my students continue to master reading, I hope that they continue to grow confident in their ability to think for themselves and voice their thoughts.
This year as a Service Leader, I want to help my students learn that there are no limits to what they can dream up. Society needs more outside-the-box thinking, and that happens when educators nurture a love of reading. Reading is magical. Expressing thought into words is magical. And when my students grow up, I want them to be prepared to use the English language as a powerful tool in building the world that they want to live in.