Accelerating equitable progress to improve graduation rates
City Year's student support model
As this school year draws to a close, we are encouraged by the results from the recent 2019 Building a Grad Nation report that shows the U.S. national high school graduation rate is at an all-time high. Since 2001, the graduation rate has risen from 71% to 84.6%, which means more than 3.5 million additional students have graduated over the last decade and a half.
Encouragingly, Hispanic, Black and low-income students continue to drive the gains in high school graduation rates from 2011 through 2017, the most recent year data is available. Since 2011, graduation rates have increased from 71% to 80% for Hispanic students; 67% to 77.8% for Black students; 70% to 78.3% for low-income students; and 59% to 67.1% for students with disabilities.  This is critical progress we can all be proud of, but we also know it is not nearly enough.
Accelerating Progress Through Student Support Services
These years of progress have shown that by working together and prioritizing the success of all children, we can effectively boost graduation rates, including in the most under-resourced schools and communities. Providing research-based holistic student supports helps to ensure that all students have the resources they need to thrive. Some of these supports include:
Early warning systems that effectively track students attendance, behavior and course performance to identify students who need extra support, including targeted early interventions
Integrated social, emotional and academic development supports throughout the school day
Safe and welcoming school cultures where every student has access to positive developmental relationships>
City Year's 3,000 AmeriCorps members provided these holistic supports in 349 public schools across 29 U.S. cities in 2018-2019 by working in partnership with classroom teachers to tutor and mentor students every day, aiming to boost graduation rates and ensure that students are prepared to thrive in school and in life.
Systemic Inequities and Graduation Rates
While we celebrate gains in graduation rates, we know there is more work to be done, specifically to close the equity gaps between students of color, low-income students, and their white and higher-income peers.
As the report lays out, students in the United States live in two educational nations, where most students attend high schools with graduation rates already at 90%, while other students attend schools with an average graduation rate of 40%. Due to systemic inequities, Black, Hispanic and low-income students are often clustered in these low-graduation-rate schools that have fewer resources to ensure students can thrive.
As a result, Black students graduate at rates 10.8 percentage points lower than White students; Hispanic students graduate at rates 8.6 percentage points below White students; and low-income students graduate at rates 12.1 percentage points lower than their middle-class peers. Why does this matter? Not having a high school diploma puts young Americans at a major disadvantage in securing jobs that pay a living wage and can contribute to other negative long-term health and economic outcomes.
We simply cannot afford the loss of this talent and potential.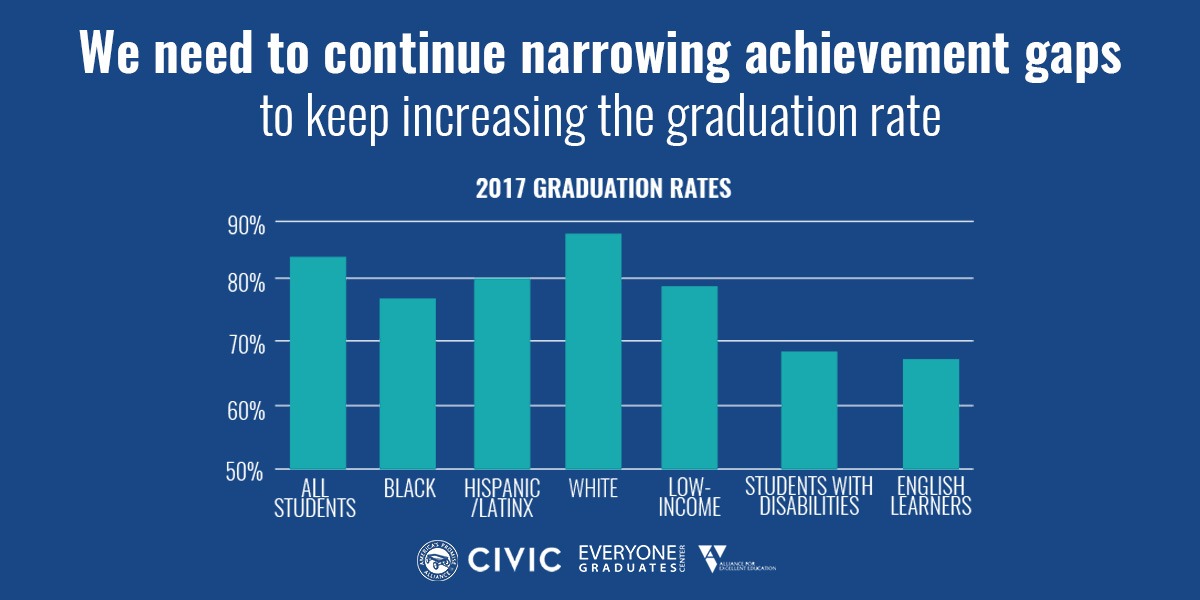 City Year: Working Towards Equity in Education
In order to reach our country's 90% high school graduation rate goal in the coming years, we must focus on ensuring equitable outcomes for all by investing in students and schools that are challenged by the persistent inequities in our education system.
City Year strategically serves in some of our nation's most systemically under-resourced schools, including high schools with low graduation rates that serve large numbers of students of color and students growing up in neighborhoods of concentrated poverty. Nationwide, 96% of the 234,000 students City Year AmeriCorps members serve are children of color and nearly 87% meet the criteria for "economically disadvantaged" in their state.
City Year, in partnership with districts, schools, teachers, students, families and other organizations across the country, remains committed to the collective work of ensuring all students have access to the resources and relationships they need to achieve at high levels, develop their talents and potential and graduate from high school, prepared for college and career success. By creating welcoming learning environments where all students can build on their strengths, and fully engage in their learning, City Year is working to improve graduation rates and more promising futures for our students and their communities at large.
Learn more about service with City Year: