Top 10 things you should know about City Year before you apply

So, you're thinking about applying to City Year?
Great! We're thrilled to hear you're interested in joining us. At City Year, our work is informed by our values and our passion to help students reach their full potential inside and outside the classroom. We're excited that you might be a part of that 30-year tradition. But before you get going on your application, we want to help you feel prepared for the long haul. Here are some things we think you should know!
1. We serve in schools, but your career path does not need to be in the education sector.
2. The benefits extend beyond just the stipend.
3. Service commitments are full-time.
4. You're a mentor, tutor, coach and more.
5. You'll work with students, their families and their teachers.
6. Data will become your best friend.
7. You'll need to do some planning and preparing prior to your first day of service.
8. You're joining a community of more than 30,000 alumni.
9. Your local service has national context.
10. Our recruiters are here to support you every step of the way.
1. Our service is in the education sector, but your career path does not need to be.
People often think that because we work within schools, we only want candidates who are primarily interested in the education sector. Actually, this couldn't be farther from the truth. We are looking for highly motivated individuals who have diverse interests, career aspirations and skillsets that will translate to working well with students. Though our alumni often go on to have successful careers in diverse fields--business, law, government, policy, health, etc.--if you know you don't like working with children, then City Year might not be the right fit for you. Now, if you've never worked with children before but think you'd like to give it a shot--come on down!
2. The benefits are more than just the stipend.
One of the big things that people hone in on when considering City Year is the stipend. While $630 dollars every two weeks (before taxes) is not a wealth of money, this is only one of the benefits that City Year and AmeriCorps offer to our corps. In addition to the living stipend, we also offer AmeriCorps members the following:
Segal Education Award ($6,095)
Health insurance
Public transportation passes in our locations with robust public transportation systems. These passes range in annual value from $750-$2,000.
And more. Explore all our benefits.
3. Our service is full-time.
As a City Year AmeriCorps member, you will be serving in schools full-time. Our AmeriCorps members are at the schools each morning before the students arrive and are there through afterschool programming in the afternoon. While the elements of service are the same across our 29 sites, the daily service of each of our AmeriCorps members differs. To explore the days in the lives of some of our AmeriCorps members, check this out!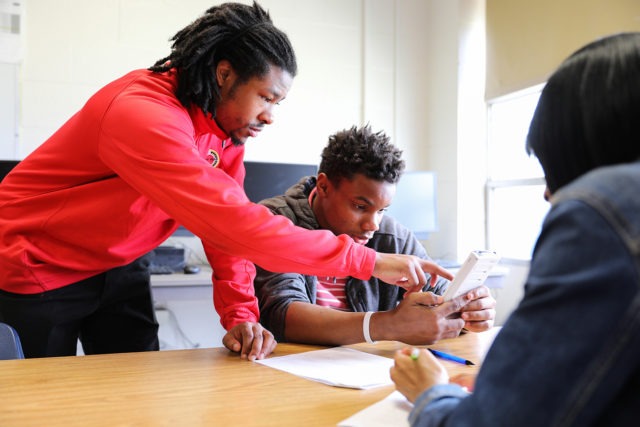 4. You are a tutor, role model, mentor, coach and more.
As a City Year AmeriCorps member, you will have responsibilities in addition to tutoring and mentoring students that you work with. You will most likely have a coordinator role within your team where you'll serve as the point person on a specific initiative. These roles allow you to become expert on a specific aspect of City Year service while infusing your own creativity into activities and events. For example, as a Math or Afterschool Coordinator, you may plan an innovative parent and community engagement night, leading your team in implementing the event.
5. You will work with students. And their families. And their teachers.
While the student service aspect of our service is often a given for our applicants, we want you to know that you will also be building partnerships within your students' community--including their teachers and their families. The teacher relationship will be particularly vital for your service and for the success of your students.
6. Data will become your best friend.
We use data to track our progress with students and set academic goals for them to achieve. As a result, data collection and student-progress monitoring will play a major role in your service. Don't let this make you nervous. We'll train you on how to track and analyze this information.
7. Your responsibilities start before your first day of service.
If you apply and are accepted to serve with City Year, your preparation for your service begins long before your actual first day. These items include, but are not limited to:
Securing your housing
Acquiring the necessary documentation to serve
Arriving one to two weeks early for your Registration Day with your City Year site
While our admissions teams will send you reminders and information regarding these things, it is important for you to stay on top of these, as well.
8. You are joining a community more than 30,000 strong!
Once you complete your service term with City Year you will be joining a community of more than 30,000 City Year AmeriCorps alumni and over 1 million AmeriCorps alums! This network includes professionals within a variety of career sectors from medicine and politics to entertainment and education.
9. Your local service has a national context.
The movement to increase high school graduation rates within the United States has gained momentum in the past decade, spurred by Grad Nation's goal to reach a 90 percent high school graduation rate by 2020 and a growing understanding that our national economy and local communities benefit when more young Americans have the skills and mindsets they need to flourish in the workforce.
10. Our recruiters are there for you!
City Year has a number of recruiters all over the United States. Connecting with them before you apply can help you with deciding if City Year is the right fit for you and submitting the strongest application if you decide that it is.
Editor's Note: This post was originally published in 2015 and was written by Yaa D. Acheampong, '11, '12. It was updated and reposted January 2019.