How My City Year Inspired Me to Do a Year of Service  
I chose to be a City Year because of the impact my own City Year had on me. My City Year was my lifesaver in school. Not only did she help me academically, but she helped me with my own personal struggles as well. I wouldn't have flourished as well as I did if it wasn't for her.  
When I applied to do a year of service with City Year, I wanted to continue the ripple she had begun for me. I wanted to be the next person to change a student's life for the good, just like she changed my life. I wanted to make at least one impact if I could.  
I had City Year during my freshman year of high school at Bay View. City Year AmeriCorps members served in my English, science, and math classes, but I personally gained the most help in math from my City Year, Ms. Jenna. 
Ms. Jenna would pull me out of my math class and help me academically and make sure I was in the right headspace. We always sat down, made goals with each other, and then continued on with our math. I wouldn't have been so passionate about math if it wasn't for her. When we did math problems together, she had us students do the work on the chalkboard and work the problem out in front of our peers. I struggled with public speaking and when she had us do the tasks on the chalkboard, I always got scared. Each time I got up there, my nerves kicked in and I used to think that if I made a mistake, I was stupid. Turns out, I actually knew way more content than I thought.  
Ms. Jenna helped me gain so much confidence and she made me feel proud and happy. She gave me this feeling that I could take on the world and even if I make a mistake, it was okay.  
There are many memories I had with Ms. Jenna, but one of my favorites was when we had this very deep discussion about my goals and aspirations in life. My dream school at the time was UW Madison and she always told me that I will go there. I used to tell her everything and anything going on in my life. She would always listen and that is what I needed. If it wasn't for her, I would have never taken my education so seriously or even thought about doing City Year. She helped me get to where I am today. One thing I have achieved that I never thought would be on my horizon is being salutatorian and well, I got that! 
My Year of Service with City Year Milwaukee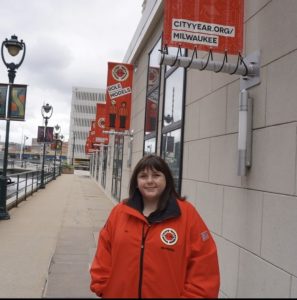 I currently serve as an AmeriCorps member in the 7th grade, virtual classroom at Dr. George Washington Carver Academy of Mathematics and Science. I have had many good laughs and memories with my students, but my favorite was when it was my birthday, and they all sang to me. Instead of them singing altogether, they had American Idol moments and sang solos. After they sang their solos, they all started teasing each other's singing.  
Morning activities and breakout rooms with my students have very much helped with interacting with my students in the virtual setting. They get to talk and get to know me better while I get to know them as well.  
Learn more about Mia's service, and the impact AmeriCorps members continue to have at Bay View High School.
The breakout rooms are like when Ms. Jenna used to pull me out of class. I was one of her focus students and very soon I will be having a focus list of my own.
Looking Ahead 
My students have helped me find my career for the rest of my life. I was going back and forth between two majors and they helped me make that decision very fast. Due to the impact they have had on my life, I will be pursuing an education degree and want to teach middle schoolers. I love the grade and my students have shown me how we really need great educators to take over a patchy school system. We cannot have potholes and bumps in the system, but we have many that have not been fixed.  
City Year has changed my life, but for the good. I am a new person and the person I am developing into; I wouldn't change for the world. So, world and City Year, get ready to see Ms. Morrison in her own classroom really soon. 
Article written by Mia Morrison, City Year Milwaukee AmeriCorps member 
Are you or someone you know, thinking of doing a year of service? Learn more about the benefits of doing a year of service, here.