Interview with CYLA Board Co-Chair, Giselle Fernandez!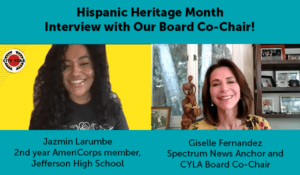 As part of our celebration of Hispanic Heritage Month, City Year AmeriCorps member, Jazmin Larumbe, who is serving a second year, sat down with Spectrum News Anchor, and new CYLA Board Co-Chair, Giselle Fernandez, to talk all about what being Latina means to her and what inspires her to continue her work with City Year Los Angeles. Read on for everything from Giselle's personal mission taking on this new role within CYLA, to her favorite Latinx L.A. food spots and her must read book recommendations!
Q: What about City Year L.A.'s  mission inspired and drew you to become so involved in the work?
I am Mexican American, born in Mexico, and I came here when I was two and lived a Mexican-American life. I have my feet in both cultures, and I care deeply about equity. You know, if you come from another culture, you have an accent, or you're from a certain ZIP code, you see every single day that communities of color don't have access to the dream, they don't have access to the tools that every other affluent person has on the west side, to be able to fulfill our highest potential.
It's my religion, it's my politics, it's my philanthropy, to help others be seen as I was seen. I had a teacher in elementary school who saw me. Having someone believe in me made a huge difference in my life and so I believe City Year and its mission. It's not all about test scores, it's about having the support system for the whole child that helps us focus on our school work and see the possibilities within ourselves. After George Floyd, people would say "how do we end systemic racism"? We're an anti-racist organization, that's how. We step up, step in, and help others fulfill their highest potential. That's why I'm on the board, that's why I'm alongside you in this mission to create equity, so our kids have a chance to shine like everybody else.
Q: What does being Latina mean to you?
I am so proud. Or should I say in Spanish, Soy orgullosa de ser Latina. I am so enthralled with my culture, my heritage, my people, my history. To define us, all you have to do is look to our history. I come from Mayan and Aztec decent. I stand on tall shoulders of those who built the pyramids, created those astronomical paradigms that were able to do so much without the technology we have today. I come from magnificent people. If you look at who's in American leadership today, Sonya Soto Mayor on the supreme court, we have a number of now really wonderful legislatures who are Latina who are representing our people and our community.
We are a matriarchal culture. Women, 80% of us in Latino households in America, are the bread winners. We are also the leading super-consumers-with two  trillion dollars in buying power. What does that mean? Tenemos poder. We have power. Just our sheer members alone show that we have a powerful vote in the upcoming election.
The mother, the Latina mom is the most important leader in America. We influence what goes into minds and the mouths in the next generation in that most important millennial block. So, who are we? We're powerful. So, who am I? I am a proud Latina because I know my history, my heritage and my contribution and I hope every Latina feels pride and orgullo in who she is because we have so much to be proud of.
Q: Who is your favorite Latin American/Hispanic Author and why? Any books you would recommend?
Well, that's unfair because I could spend two hours doing this with you. House on Mango Street by Sandra Cisneros, if you're a Mexican American, is a book that you must read. Why, because it was the first time, I saw myself in a character and I didn't feel so alone. You know sometimes I've been told, "You're not really Mexican, but you're not really just American," because I do live in los dos paises, los dos culturas, y los dos son mios. They're both mine you know. And to realize that it is okay- you are Mexican enough, and you are American enough is so powerful. So, that book, I just have to recommend. She's such a beautiful writer. I of course also love Laura Esquivel, Gabrielle Garcia Marquez, and Pablo Neruda, all of these are wonderful authors and I recommend them all. There is one book that I've read that stands out above the rest, I have to say, and it is called Shadow of the Wind by Carlos Ruiz Safón. It is my favorite book, and I recommend it to everyone.
To end the interview, Jazmin presented one last question to Giselle. The question? Is there a Latinx restaurant that is your favorite, and what's your favorite dish to order there? For all of Giselle's favorite LA food spots, check out the video below!
Giselle Fernandez is a six-time Emmy award winning journalist, Executive Editor, News Anchor for Spectrum TV. Named the Los Angeles Press Club Journalist of the year, the producer, filmmaker, and Latin media marketing entrepreneur is also the host and executive producer of the prime-time Emmy award winning LA Stories on Spectrum News 1.  Her exclusive interviews with titans of industry, changemakers and thought leaders not only delve into the economic landscape of America but impact the diversity and multi-cultural demographics have on our future. As president of her own production and consulting company Giselle focuses on Latina content and themes around diversity and social justice.  Giselle is best known over the past decade for her coverage of international news stories and major events. Born in Mexico and raised in Southern California, Giselle works with the San Fernando Refugee children's Center, enjoys time hiking in the hills with her dogs, tending her garden and lives with her 14-year-old daughter, Talei.  
Jazmin Larumbe is a South Central Los Angeles native serving her second year as an AmeriCorps member at her high school alma mater, Jefferson High School in South LA. She is the proud daughter of two Mexican immigrants, whose parents always instilled in her the importance of education. Larumbe graduated from the University of California, Berkeley, earning a degree in Sociology. Her passion for social justice revolves around empowering under-represented youth from low-income communities like myself. I believe in providing equitable opportunities to first-generation, low-income, students of color.